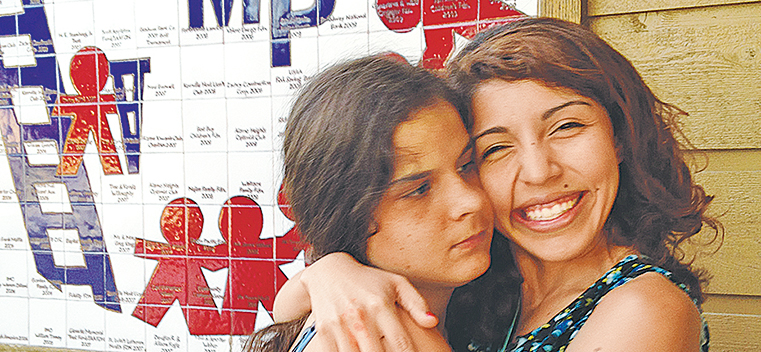 Abby Issarraras, right, with a camper at Children's Association for Maximum Potential in Texas.
Abby Issarraras: Celebrating Difference
Story Tools
Share this story
Abby Issarraras has spent seven summers working with children and adults with disabilities at Children's Association for Maximum Potential, a camp near her home in San Antonio. At Northwestern she found a research opportunity to complement her camp counselor experience and discovered her calling.
Issarraras, a QuestBridge Scholar, is completing her studies at Northwestern in just three years and will graduate this June. She will begin a PhD program in clinical psychology at Louisiana State University in the fall. Ultimately, she plans to work with children with autism and other developmental disabilities, especially in underserved populations.
During her freshman year she received a School of Communication Early Research Experience Award that allowed her to work with professor Molly Losh on a family genetic study of autism and fragile X syndrome at the Neurodevelopmental Disabilities Laboratory. The lab became Issarraras' intellectual home.
Issarraras, who came to Northwestern sight unseen, also found community with the Quest Scholars Network, a group of like-minded first-generation, low-income students, with whom she could share her struggles. 
"I didn't really feel like I belonged here from the first day," says Issarraras, who at times felt overwhelmed and underprepared from a social and cultural perspective. "Having that Quest Scholars community was a really good place to say, 'Your experience isn't wrong. It's just different.'"
As part of a peer mentoring program created by Student Enrichment Services, a new Northwestern outreach to low-income and first-generation students, Issarraras is doing her part to help younger first-generation students adjust to Northwestern.