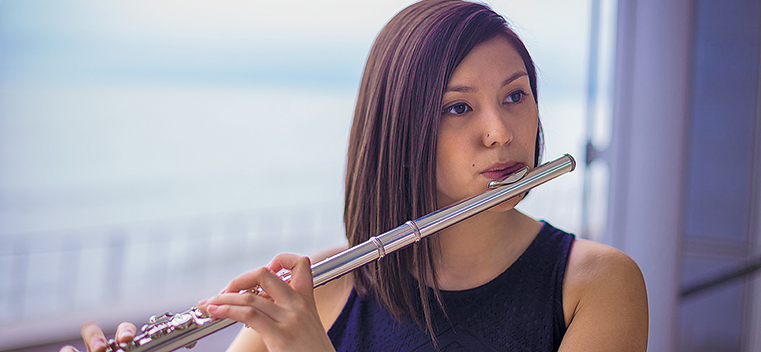 Alexandria Hoffman at Northwestern's Ryan Center for the Musical Arts.
Alexandria Hoffman: In Tune
Story Tools
Share this story
Alexandria Hoffman spent her 18th birthday at band camp, and it was the best gift ever. "I didn't enjoy high school very much," says Hoffman, who admits that she didn't really fit in at her school in Antioch, Ill., a town near the Illinois-Wisconsin border. "I was so ready to leave."
Hoffman and her Northwestern University Marching Band peers arrived on the Evanston campus three weeks before the start of her first year, and she quickly found a home. "I met most of my best friends in NUMB," she says.
The marching band, which took the piccolo player to the Gator Bowl her freshman year, has been part of Hoffman's varied career that has included both classical and popular music. The flute performance and music education double major joined the Symphonic Wind Ensemble, the University's top wind group, when she was a freshman. She took conducting with SWE's conductor Mallory Thompson '79, '80 MMus, a professor who gave her "a totally refreshed view of music."
"You spend a quarter on really intense conducting study," Hoffman says. "You throw yourself into it, making yourself vulnerable in front of all these people in the class because conducting is such a different art form. That class totally changed me."
Hoffman also performed with visiting artist and MacArthur Fellow and flutist Claire Chase as one of four featured soloists in the Chicago premiere of Salvatore Sciarrino's Cerchio Tagliato dei Suoni at Northwestern's Mary B. Galvin Recital Hall. 
In 2015 Hoffman played in the orchestra for the Waa-Mu Show, which exposed her to an unusual musical experience. "You're giving feedback to the writers, which makes you part of the process," she says. "In the classical world that doesn't happen, because most of the composers are dead."
A Presser Scholar and recipient of a Margaret Morris Henderson Endowed Scholarship, Hoffman also served as music director for Sigma Alpha Iota, the women's music fraternity, and led NUMB's flute and piccolo section, an experience that allowed her to try her hand at teaching. She did her student teaching experience at Deerfield High School and Wilmette Junior High School last fall and plans to pursue her master's in flute performance at the Cleveland Institute of Music.