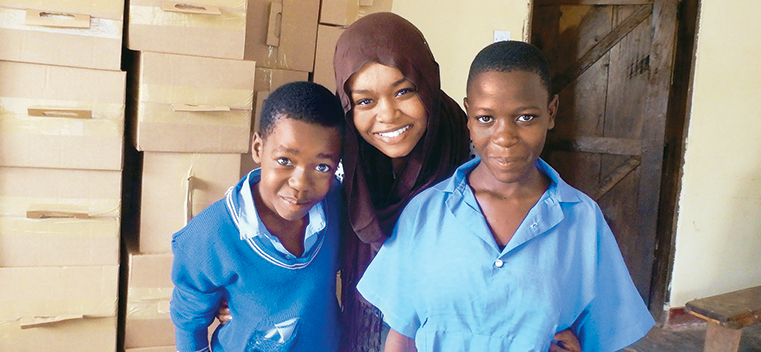 Alaa Mohamedali, center, with students from Kasokoso Primary School in Uganda.
Alaa Mohamedali: Health Beyond Borders
Story Tools
Share this story
When Alaa Mohamedali walked into the Iganga Islamic Medical Center in Uganda with three other Northwestern pre-meds, the overworked doctors and nurses looked relieved. Help had arrived, they thought.
"They assumed we had some sort of medical experience," she says, "but we were just learning organic chemistry."
Mohamedali and her peers, participants in the Buffett Institute's Global Engagement Studies Institute in summer 2014, were there to listen and learn about the needs of the community and propose possible solutions. The team discovered that drug abuse and sexual-health education were two concerns for young adults, so she and her colleagues developed a peer-led adolescent health curriculum focused on those issues and shared it with local schools. The medical center continues to use the curriculum.
Back in Evanston, Mohamedali — who received a GESI scholarship funded by University Trustee Bonnie Swanson Daniels '69 and her husband, Mike '68, '69 MA — incorporated the lessons she learned in Uganda in her senior project for the Brady Scholars Program in Ethics and Civic Life. She and her education teammates created a curriculum — to be taught by Northwestern student volunteers — that includes nutrition, health, interpersonal skills and employment advice for teens and young adults with developmental disabilities at Our Place, a community center in Wilmette, Ill. 
Mohamedali, a biology major and past president of Phi Delta Epsilon, the international fraternity for pre-med students, plans to spend next year scribing — a period of intense job shadowing and observation — at the University of Iowa hospitals and clinics before attending medical school to become a pediatrician. She also hopes to volunteer or work in Uganda or her homeland, Sudan, where she lived before moving to the United States at age 7.
"It's so crucial to take the knowledge you have and give back to the communities that raised you, that helped you grow," says Mohamedali, who lived in Texas and now calls Iowa City home.