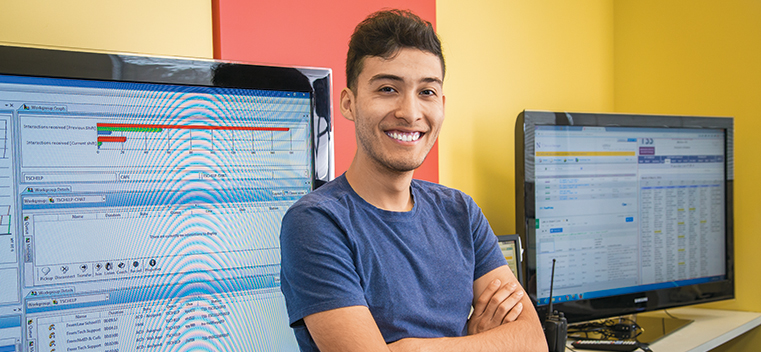 Sebastian Rodriguez at the Northwestern Information Technology Support Center in Evanston. Photo by Michael Goss.
Sebastian Rodriguez: Ready to Serve
Story Tools
Share this story
Sebastian Rodriguez came to Northwestern with two primary goals: to serve his country and study computer engineering.
Born in Chicago and raised in his father's homeland, Peru, Rodriguez is the son of a U.S. Army veteran. His two older brothers, both commissioned officers in the Army, are training for careers in military law and medicine. "Big shoes," Rodriguez says. "Really big shoes."
The valedictorian of his graduating class at Rickover Naval Academy in Chicago, Rodriguez joined the Northwestern Naval Reserve Officers' Training Corps as a freshman but opted to leave after freshman year when he realized he had to choose between immediate military service and graduate education. (The University awarded him grants and scholarships to cover the cost of attendance when he gave up his NROTC funding.)
Pursuing a PhD was always on Rodriguez's agenda, but demands on the home front sometimes took a toll on his grades. However, through a combination of teaching, research and work opportunities, Rodriguez proved himself an exceptionally hard worker. He learned leadership through his role as a student manager for Northwestern Information Technology; was a teaching assistant for four quarters for various electrical engineering and computer science courses; served as a vice president for the Northwestern chapter of the Society of Hispanic Professional Engineers; and designed computer science activities for Chicago high school students under the supervision of professors Corey Brady and Uri Wilensky as part of the Research Experiences for Undergraduates program at Northwestern's Center for Connected Learning and Computer-Based Modeling.
And when he "nailed a 4.0" in spring 2015 while working multiple jobs to help his parents financially, commuting from home on Chicago's Northwest Side and taking four engineering courses, "that was really a moment of pride," Rodriguez says. "That was a milestone I never thought I could reach with my commitments."
In the fall he will begin studying human-computer interaction in a computer science doctoral program at the University of Illinois at Urbana-Champaign. He also still plans to serve his country.