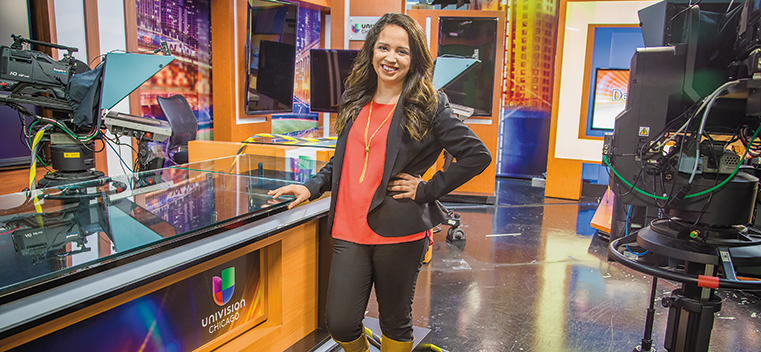 Lizet Alba in the studio at Univision's downtown Chicago bureau, near Michigan Avenue. Photo by Michael Goss.
Lizet Alba: On Her Own
Story Tools
Share this story
"The whole thing about being a first-generation college student is you do it pretty much on your own," says Lizet Alba, who grew up in Carpentersville, Ill. "My parents are supportive emotionally, but academically — it's not possible for them."
It took some time, but Alba created her community at Northwestern. She co-founded Ballet Folklórico Mexicano de Northwestern, though she had never performed traditional Mexican dances. "It took us two whole quarters to learn the steps to one song," she says. Through fundraisers, including sidewalk sales of corn on the cob and pan dulce, she helped build the group from scratch, and now its 22 members — men and women — perform regularly on campus.
Alba studied abroad in Barcelona — a once in a lifetime experience, she says. She also pledged Sigma Lambda Gamma, choosing to join the multicultural, Latina-focused sorority in part because "I knew I wouldn't have to pretend that I'm from somewhere that I'm not."
A broadcast journalism major, Alba had dreamed of interning at Telemundo or Univision. She did both — and saw the disparity between Spanish- and English-language newscasts "in terms of the issues they cover, who they interview, what they put on screen," she says. "The reason I wanted to do my journalism residency at Univision is because they cover the issues that are important to the Latino community, issues that are important to my parents, to people that live in my neighborhood back home. Even if I don't do that in news necessarily, I still want to do something to bring these issues to the forefront."
Alba, who plans to work in media and marketing or nonprofit public relations and eventually go to grad school, made it a point to use her experience as inspiration for other first-generation students. She corresponded with Chicago Public Schools pen pals and spoke on Office of Undergraduate Admission panels as part of Northwestern's Council of Latino Admission Volunteers for Education.