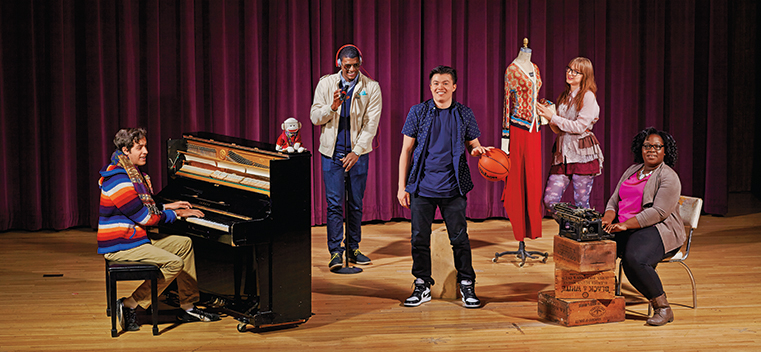 From left, Conner VanderBeek, Omar Jimenez, Jeremy Woo, Cassie Bowers and April Quioh. Photo by Mary Henebry.
The Creatives
Story Tools
Share this story
The Road Ahead
Read more on these outstaning seniors:
Find Us on Social Media
Cassie Bowers - Costume Designer
When it comes to theater costumes, Cassie Bowers likes to go big — really big. For the 2012 Arts Alliance show The Visit, Bowers designed a hat that was 3 feet in diameter and had a 6-foot long tulle train. She says her most meaningful work has been her designs for Seesaw Theatre, the student group that produces multisensory theater for children and adults with autism spectrum disorder and other developmental differences. The costumes she creates for Seesaw are tactile, make sounds or light up. "It's pure design, which is why I love it," says Bowers, whose younger sister is on the spectrum. In June, Bowers will present on design for multisensory theater at the Prague Quadrennial, one of the largest theater design festivals in the world. The Eugene, Ore., native will graduate in August and plans to work in theater in Chicago.
Omar Jimenez - Newsmaker
Omar Jimenez lives by the mantra "just do it." A broadcast journalism major who has interned at CNN and NBC, Jimenez played basketball for Northwestern for two seasons. Rapping under the stage name OJ Tropicana, he annually releases a mix tape and won a "Battle of the Instant Rappers" segment on Late Night with Jimmy Fallon (see "OJ Tropicana Drops the Juice on Fallon," winter 2013). He's also performed in campus theater productions, and for the last two years he's even done the color commentary and play-by-play for the live stream of the Big Buck Hunter arcade game world championship. "When I see an opportunity, I look at it as a way to improve a different side of me," the Kennesaw, Ga., native says.
April K. Quioh - Comedy Writer
"Television right now is so inspiring to me," says pop culture maven April K. Quioh, the daughter of Liberian immigrants who live in Brooklyn Park, Minn. "When I was growing up, there wasn't much black representation on television. Now all of my favorite shows have diverse casts," adds Quioh, who admits to keeping up with 80 different TV shows. "When I eventually run a show, I want it to have a diverse cast and be about diverse experiences and different versions of the American dream." Quioh, an RTVF major who spent two summers as an intern at Comedy Central, ran the speakers committee for A&O Productions. She plans to move to Los Angeles to pursue a career in television.
Conner VanderBeek - The Composer
"I understand my life and the world through music," says Conner VanderBeek, a South Asian studies, music composition and ethnomusicology major. The Beinecke Scholarship winner from Salida, Calif., plans to spend a year in New Delhi before studying music composition in graduate school. Since traveling to India last fall to study the music of Sikhism, he has found South Asian influences mixing into his music. "There's a certain spaciousness and conversational element in Indian music that I really love," says VanderBeek, whose mother is from Punjab. "I'm excited to hopefully get involved in the music scene in Delhi." (Read more about VanderBeek and the Beinecke Scholarship.)
Jeremy Woo - Hoops Herald
In March, Jeremy Woo ventured overseas for the first time, spending 11 days in Russia to cover the red-hot CSKA Moscow Euroleague team on a Medill Global Research and Reporting Grant. He appreciates basketball's global importance, but Chicago hoops gave him his first bounce. Woo, who grew up on Chicago's South Side and is part of Northwestern's first class of Good Neighbor, Great University scholars (see "A Good Neighbor," winter 2010), covered and scouted high-profile Windy City hoops stars like Jabari Parker and Jahlil Okafor during his college days. He parlayed those experiences and a journalism residency with Sports Illustrated into a full-time gig with SI.com.
Interviews and text by Sean Hargadon.