Story Tools
Share this story
We'd Like to Hear from You
Northwestern welcomes signed letters of 250 words or less from readers. We reserve the right to edit all letters. Please send correspondence to the
Editor
Northwestern
2020 Ridge Ave.
Evanston, IL 60208-4340
Fax: 847-491-3040
E-mail: letters@northwestern.edu
Find Us on Social Media
Cover Art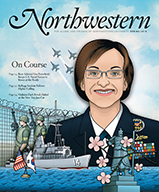 When I first looked at the recent spring 2015 issue and its cover, I was really puzzled. Why would someone of such stature — U.S. Navy Rear Adm. Lisa Franchetti — be pictured in this way? Are you trying for it to look like something from Saturday Night Live, or like a cartoon or comic book cover? It's not a very flattering caricature at that, and I doubt very much that she would have been pleased! In fact, I was not amused — but rather appalled. For a university as much admired for its institutional and intellectual integrity as Northwestern to print such a thing is pure travesty! I believe an apology is called for, both to her and to the rest of us.
Thankfully the accompanying article ["U.S. Navy–ROK Star," spring 2015] was informative and well done.
Patricia McFerren Davis '63
Rockford, Ill.
ICE Skating at the Wagon Wheel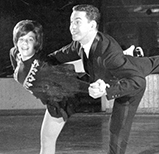 I enjoyed the article "Medal Count Mystery" [Then, page 2, spring 2015]. One of my interests has been Winter Olympic sports and talented athletes, such as ice skaters Ron Joseph '67, '70 MD and his sister, Vivian. Ron's comment about traveling to the Rockford, Ill., area to train and returning to campus for classes caught my attention.
I believe Ron was referring to the Wagon Wheel Lodge in Rockton, Ill., which was a very popular spot with Chicagoans based on its reputation for first-class lodging, fine food and drink, great Dixieland bands and its swimming pool and ice rink. The Chicago Blackhawks used to practice periodically at the ice rink.
While vacationing there with my wife one time, I decided to go ice skating and noticed a young girl being trained by a young woman and a man whom I quickly recognized as U.S. Olympic Hall of Famer Dick Button. As I skated past them, I lost my balance and fell to the ice. Mr. Button came to my aid and followed with an introduction to the young girl, Janet Lynn, future Olympic bronze medal winner, and to Slavka Kohout, the trainer and Button's future wife.
This is still a fond memory for me, an elderly alumnus of the evening division on the Chicago campus. Thanks for the memory!
J. Tom Curda '62
Clintonville, Wis.
Horsing Around
In reading the latest issue I noticed the photo of Brian West '11 on his horse, Josie, in Arizona [Alumni Life, spring 2015, page 33]. I hope that the shoes he is wearing have decent heels. I can't tell.
The first thing I learned (eons ago) is that when riding, you need to wear footwear with heels to keep your foot from slipping through the stirrup in case things go wrong. (And I always ride with the assumption that they will.)
I would also recommend he take off the web halter before putting on the bridle.
Jerry Adam '78 MBA
Maple Valley, Wash.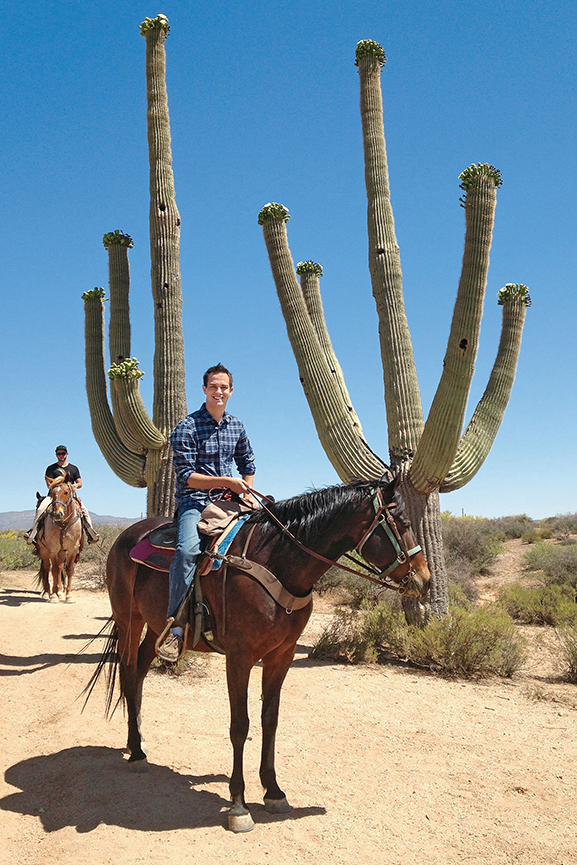 In Appreciation
This is a much-belated letter of appreciation to Northwestern for having given me the strong educational foundation that enabled me to pursue a fulfilling academic career. I received three degrees from Northwestern: a BA in 1963, an MA in 1966 and a PhD in 1968.
My undergraduate experience was amazing. The wide-ranging curriculum made it possible for me to study so many diverse areas, from art history to moral philosophy to socialist economics to literature.
I'll never forget taking a course in modern Irish and American fiction from professor Richard Ellmann '80 H, a foremost authority on James Joyce, who helped me to understand and appreciate Ulysses, Joyce's complex and daunting classic novel. The breadth of my undergraduate education was incredibly enriching.
My graduate education was quite different, furnishing the skills necessary to pursue my chosen field of political science. It was focused, it was rigorous, and it provided me with state-of-the art knowledge enabling me to engage in a wide array of research endeavors. Guidance and encouragement from devoted faculty mentors was critically important in keeping me on track.
Over the span of nearly half a century prior to my recent retirement, I was a professor at four universities, serving as a dean for 13 years at one of them. Over the course of these years, I taught thousands of students, wrote several books and published countless scholarly articles. Northwestern's dedication to quality education is in large measure the cause of whatever successes I obtained.
I am truly grateful.
James P. Levine '63, '66 MA, '68 PhD
Brooklyn
Student Vote on Divestment
I am very disappointed in the recent Northwestern student senate vote on disinvestment in firms interacting with the state of Israel. Citing Israel as a country with human rights violations, in comparison with some of its neighbors or others in South America, Africa or Asia, is insulting — and bespeaks a larger ignorance of the world's governments.
I'm embarrassed to see the Northwestern student senate take such a step.
Rick Gordon '80 MBA
Gulf Breeze, Fla.
Editor's note: The University administration has taken no action on the recommendation from the student senate but has said that it will study the request.
Correction: Richard T. Schaefer '68 of Brooklyn was incorrectly listed as deceased in the spring 2015 issue. His brother, Douglas L. Schaefer '63, '72 PhD, of Delray Beach, Fla., passed away on Aug. 21, 2014.