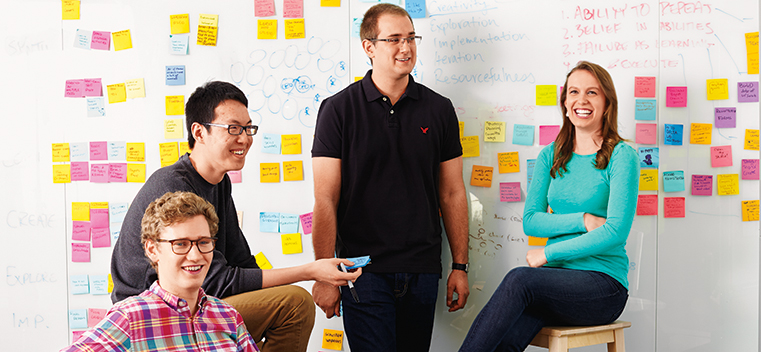 From left, Oskar Melking (seated on couch), Edward Pang, Anthony Pensa and Jenn Murphy. Photo by Mary Henebry.
The Innovators
Story Tools
Share this story
The Road Ahead
Read more on these outstanding seniors:
Find Us on Social Media
Oskar Melking - Serial Entrepreneur
Oskar Melking has been a lifelong entrepreneur. Growing up in Helsingborg, Sweden, he ran an ad agency and launched an anti-stress beverage during high school. At Northwestern he created RezEssentials, a Northwestern Student Holdings company that sells and delivers dorm essentials. He is part of an NUvention: Web + Media team that launched BarLift, an app-based service that sends spontaneous deals for food and drinks at Evanston establishments. During senior year he also hatched NU Spring Escape, a spring break excursion to Puerto Vallarta, Mexico. The communication studies and economics major is headed to McKinsey & Co. as a business analyst.
Jenn Murphy - Path finder
Jenn Murphy knew that her path would lead to a career as a prosthetist and orthotist. She's well on her way. The psychology major completed a Segal Design Certificate and spent three years as a Wildcat Welcome peer adviser. As executive co-chair of Northwestern's Special Olympics chapter, the "eternal volunteer" coached swimming for adults with intellectual disabilities through Evanston Special Recreation. The Clifton Park, N.Y., native will start a two-year master's program at the Northwestern University Prosthetics-Orthotics Center at the Feinberg School of Medicine in July
Edward Pang - Racing Engineer
An auto and airplane aficionado, Edward Pang often put in a hundred hours a week in the Northwestern Formula Racing shop. "I really became 'an engineer' because of Formula," says Pang, who won a Churchill Scholarship to study at the University of Cambridge, where he'll work on high-temperature shape memory alloys that can be used in jet engine components to optimize aerodynamics and improve efficiency. The clarinet-playing materials science major from Copley, Ohio, hopes to become a sustainability-focused professor. (Read more about Edward Pang and the Churchill Scholarship.)
Anthony Pensa - Medicine Maker
For more than two years Anthony Pensa has worked in the lab of professor Richard Silverman on drug design and discovery for therapeutics for Huntington's disease and potential drug candidates to target an enzyme associated with Alzheimer's and Parkinson's diseases, as well as cerebral palsy and neuropathic pain. "It's important to me on a personal level," says Pensa, who has watched family members suffer from Alzheimer's and Parkinson's. The biological sciences and integrated science double major plans to attend Northwestern's Feinberg School of Medicine after graduation. The former high school football captain from Arlington Heights, Ill., also runs adventure races and half-marathons to support causes close to his heart, including the Wounded Warrior Project and the Muscular Dystrophy Association.
Interviews and text by Sean Hargadon.