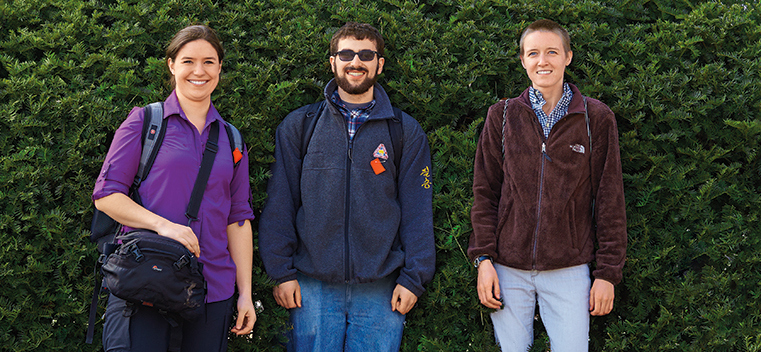 From left, Lauren Wustenberg, Mike Ziebel and Kayleen McMonigal. Photo by Mary Henebry.
The Greens
Story Tools
Share this story
The Road Ahead
Read more on these outstanding seniors:
Find Us on Social Media
Kayleen McMonigal - Underground Explorer
Kayleen McMonigal, a math, Earth and planetary sciences and integrated science triple major, worked with professor Patricia Beddows (see "Cave Woman," fall 2014) to explore the cenote system in the Yucatán to study deposits of calcite rafts — lacy layers of crystals that form on undisturbed water — to understand past sea levels. McMonigal — the daughter of Tacoma, Wash., alumni Richard '85 and Susan Utz McMonigal '86 — will start a physical oceanography doctoral program at the University of Miami, where she'll study the Agulhas current, a swift, strong current that flows down the east coast of Africa and forms the western boundary current of the southern Indian Ocean.
Lauren Wustenberg - Field Researcher
Lauren Wustenberg grew up on a 13-acre hobby farm just north of Northfield, Minn. "From the time I could walk, I'd be outside finding bugs and small plants," says Wustenberg, an environmental sciences major. For her first fieldwork experience, she studied landuse patterns of brown bears during eight weeks in remote southern Alaska. She spent last summer in the Peruvian Amazon, doing field studies and ethnographic interviews with local artisans to explore the effectiveness of current reforestation programs and to help develop a sustainable management plan to conserve chambira palm tree populations. Artisans in indigenous communities use chambira palm fiber to create colorful woven baskets and other handcrafts. She'll return to the Peruvian Amazon over the next two years as part of her master's degree research in development geography at McGill University. And when she goes, she'll make sure to pack her dance shoes — one of her three essentials for successful fieldwork, she says, along with good hiking boots and good food. With dance, "you can communicate regardless of language," says Wustenberg, a dancer and choreographer with Northwestern's Ballroom, Latin and Swing Team.
Mike Ziebel - Sun Catcher
"Chemistry is one of the few ways that I can actively pursue solutions to energy problems. I've been able to explore this really high-end, cutting-edge research, but I've also had this opportunity to pursue more of an activist approach," says chemistry major Mike Ziebel. When he's not studying organic solar cells with the research group of professor Sam Stupp '77 PhD, Ziebel is pushing awareness of environmental issues as head of Eco-Reps and chair of the Sustainability Fund. The senior from Newtown, Pa., will continue his energy research through a doctoral program in chemistry at the University of California, Berkeley.
Interviews and text by Sean Hargadon.