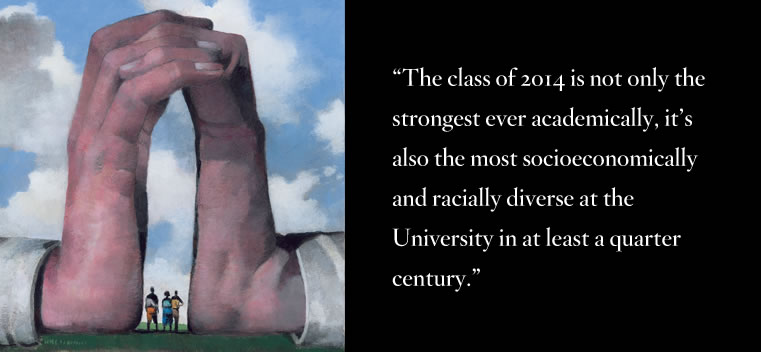 Illustration by Brad Holland
A Good Neighbor
Story Tools
Share this story
The annual uptick in the quality of Northwestern's incoming students is no surprise. Every year the freshmen are statistically smarter and more accomplished than their predecessors. That's true for this year's class, too.
So here's what's new: The class of 2014 is not only the strongest ever academically, it's also the most socioeconomically and racially diverse at the University in at least a quarter century.
This year's class of 2,134 students has 7 percent African American students, 8.2 percent Latino and 6.3 percent international. More than 13 percent of the new class received need-based Pell Grants, and the class includes 72 students (including 12 full-scholarship QuestBridge Scholars) from QuestBridge — the most among the college match program's partner schools. QuestBridge is a nonprofit program that links low-income students with educational and scholarship opportunities at some of the nation's best colleges.
The University is working to ensure that trend continues. Northwestern recently announced the Good Neighbor, Great University Scholarship program (PDF), which provides significantly increased financial aid to incoming freshmen who graduate from public or private high schools in Evanston and Chicago and who need financial assistance. 
"Research has shown that Chicago has some outstanding students who are not going to the best universities even though they are capable of doing so, and one of the reasons seems to be financial," says Penelope Peterson, dean of the School of Education and Social Policy. "The price tag alone does turn off some kids initially."
The Northwestern program aims to remove that financial barrier. Now when admitted students receive their financial awards in the spring, "hopefully they won't choose other schools because our financial aid package wasn't as good," says Christopher Watson, dean of undergraduate admission. "That's really the bottom line."
One of the primary goals of the Good Neighbor, Great University program, says Northwestern University Black Alumni Association president Kerry Gray (WCAS89), is to "make Northwestern an option for students who didn't even know that Northwestern was an option for them."
Rosey Martinez, a SESP senior and first-generation college student, says a crucial aspect of Good Neighbor, Great University is to provide peer mentoring and other academic, social and personal supports for students once they arrive on campus. A Chicago Public Schools graduate from Walter Payton College Prep, Martinez says she experienced culture shock when she stepped onto campus. She felt unprepared for the intensity of the course work, intimidated by her professors and afraid to ask for help.
With Good Neighbor, Great University, "we need to make sure these students are given every resource to succeed. We need to make sure they do well and stay here," Martinez said.
Martinez served on the all-University task force on diversity and inclusion that developed the Good Neighbor, Great University initiative. The task force, which included students, faculty, staff, alumni and trustees, was co-chaired by Peterson and Northwestern President Morton Schapiro. The task force considered ways to attract more students, faculty and staff members from underrepresented groups and make them feel welcome and included at Northwestern.
The Office of Undergraduate Admission continues to recruit diverse college-bound populations in Chicagoland, with visits to more than 150 area high schools, in addition to other recruitment and outreach efforts. Approximately 900 students from Chicago and Evanston applied to Northwestern for the class that entered in the fall. Northwestern's most recent freshman class includes 60 students from CPS — up significantly from 28 in fall 2008.
Northwestern hopes to provide the Good Neighbor, Great University scholarships to approximately 100 first-year students next fall and perhaps increase it to as many as 200 in the future.
"We have not seen this targeted an approach to increasing diversity among our student populations since the 1970s," task force member Carol Lee, professor of learning sciences and African American studies, told Inquiry, SESP's alumni magazine. "In addition, the initiative opens up wonderful new possibilities for collaborations and outreach between Northwestern and schools in the area. It also speaks well for the vision of this president for an inclusive Northwestern community."