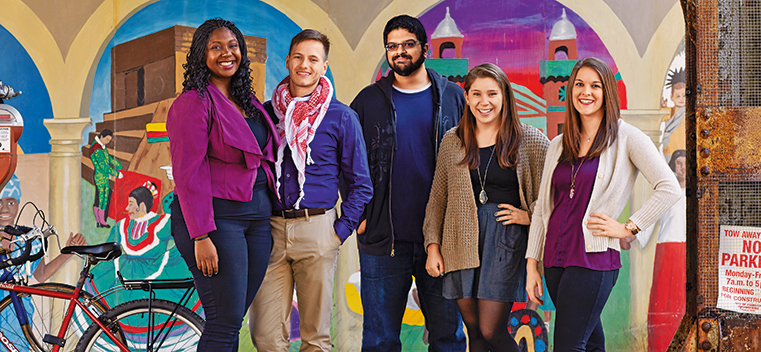 From left, Sarah Carthen Watson, Peter Podlipni, Aman Rahman, Isabel Garcia and Elizabeth Larsen. Photo by Mary Henebry.
The Do-Gooders
Story Tools
Share this story
The Road Ahead
Read more on these outstanding seniors:
Find Us on Social Media
Isabel Garcia - Health Educator
Isabel "Izzy" Garcia spent summer 2012 leading workshops with a community health organization in Santiago, Chile, talking to local women about the root causes of health disparities. Those interactions inspired the social policy and international studies double major to focus on "how social determinants — poverty, race, gender, neighborhood — affect quality of health." Garcia, who worked on the rollout of Get Covered Illinois, was awarded a Princeton in Latin America fellowship and will spend next year in Mexico working with a Mexico City–based education group and fully immersing herself in Spanish-speaking culture. At Northwestern, the Irvington, N.Y., native immersed herself in Dance Marathon — she's a proud member of the 120-hour club — and theater, as business producer for the 73rd annual Dolphin Show.
Elizabeth Larsen - Global Health Healer
During summer 2014 Iowa City native Elizabeth Larsen, an economics major and global health minor who is also in the Honors Program in Medical Education, visited 10 grass-roots organizations in six countries to explore childhood malnutrition on a Circumnavigators Travel-Study Grant. Her experience on the partnerships team at GlobeMed significantly influenced her itinerary. GlobeMed, founded at Northwestern by Victor Roy '07, is a network of 56 university-based chapters that are partnered with grass-roots health organizations in 18 different countries. "Many of my Circumnavigators research sites are partners of GlobeMed," says Larsen. "I ended up GlobeMed couch surfing around the world." She plans to work as a business analyst at McKinsey & Co. — to better understand how the private sector influences global health issues — before enrolling at the Feinberg School of Medicine.
Peter Podlipni - Science Teacher
The son of Polish immigrants, Peter Podlipni led the Northwestern Polish-American Student Alliance's relationship with CommunityHealth, coordinating trips for Polish- and Spanish-speaking students to translate at the Chicago clinic that serves the uninsured and undocumented. "I wanted to connect students here to opportunities to serve their own communities," says the Quest Scholar from Chicago's Northwest Side. Podlipni, who is studying secondary education, plans to teach science in the Chicago Public Schools. "Scientific inquiry is a beautiful art," he says. "In the pursuit of justice, it's critical to extend these skills to youth so that they can begin to think critically and objectively across contexts." (Read more on Podlipni and the Quest Scholars program.)
Aman Rahman - Life Saver
Aman Rahman, a commuter student from Morton Grove, Ill., worked as an emergency medical technician and certified nursing assistant during college. "As an EMT, you might see someone die right in front of you, and then you have go back to class to take a final exam. That has an effect on you," says Rahman, a political science major who is off to the University of Pennsylvania to advance his studies toward a career in medicine. "I learned to set aside work from school, to take the good experiences and apply them to my involvement on campus." Among his activities, Rahman revitalized the student group C.O.P.E. (Cancer Outreach Prevention Education) by securing a volunteer partnership with the Ann and Robert H. Lurie Children's Hospital of Chicago.
Sarah Carthen Watson - Conversation Starter
Words matter to Sarah Carthen Watson. The former high school debater won the inaugural Martin Luther King Jr. Oratorical Contest. Asked to write in response to the King quote, "Riot is the language of the unheard," Carthen Watson zeroed in on the events in Ferguson, Mo., when "it felt for a lot of black students that our world had stopped." In the speech, "I challenged the idea that oppressed people should respect laws that oppress them above protesting for their own rights." (See the entire speech.) The senior social policy major from Shoreview, Minn., also co-founded Sustained Dialogue to help create a space at Northwestern for constructive conversation among people of different races and backgrounds. Carthen Watson, the daughter of Shelley Carthen Watson '85 JD, also led For Members Only and helped plan events focused on the Black Lives Matter movement. "We definitely stirred up this campus and got people talking," says Carthen Watson, who was also director of Northwestern's Sexual Health and Assault Peer Educators. She plans to attend law school in the fall.
Interviews and text by Sean Hargadon.