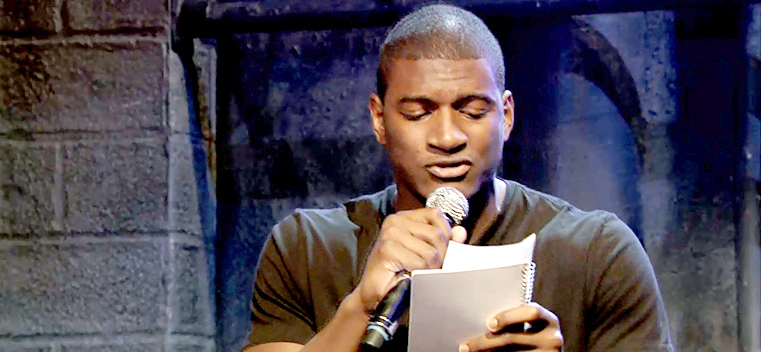 Omar Jimenez raps during "Battle of the Instant Rappers" on Late Night with Jimmy Fallon in August.
OJ Tropicana Drops the Juice on Fallon
Story Tools
Share this story
Tell us what you think. E-mail comments or questions to the editors at letters@northwestern.edu.
Ever wonder about those strange designations we use throughout Northwestern to identify alumni of the various schools of the University? See the complete list.
Find Us on Social Media
Junior Omar Jimenez raps to the delight of Fallon and fans.
Omar Jimenez spent his summer interning at CNN in New York City, working behind the scenes on the cable news network's international coverage. But the journalism junior took center stage when he earned the opportunity to rap on NBC's Late Night with Jimmy Fallon in August.
A big fan of Fallon's show, Jimenez attended a taping earlier in the summer and auditioned for a chance to perform on the show's "Battle of the Instant Rappers" segment. Jimenez already had the requisite skills — he moonlights as a rapper under the name OJ Tropicana — but it took a little extra to prepare for the big stage.
"It got surreal when the producers took me backstage to the dressing room and Vanessa Hudgens [star of the High School Musical series] walked by," says Jimenez. "I had a brief moment of panic when they gave me the beat and the topic and left, but after that I got focused. As soon as we walked out there, I wasn't nervous at all — I was excited."
His minute-long rap about breakfast for dinner thrilled the crowd, and Jimenez won the competition.
That victory was just one highlight of a summer where he assisted CNN correspondents on-site and with research, frequently working on coverage of the United Nations.
The CNN internship came with a sacrifice — to accept the job, Jimenez opted to leave Northwestern's men's basketball team. The former walk-on will certainly stay busy without basketball. He participates in Northwestern's Medill Media Teens program that teaches journalism basics to Chicago high school students.