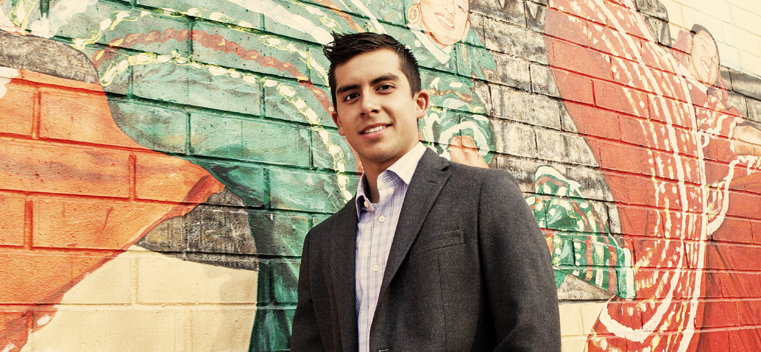 Photo by Drew Reynolds.
Luis Frausto
Story Tools
Share this story
Tell us what you think. E-mail comments or questions to the editors at letters@northwestern.edu.
Ever wonder about those strange designations we use throughout Northwestern to identify alumni of the various schools of the University? See the complete list.
Find Us on Social Media
Hometown: Tinley Park, Ill.
Major: Economics
Big picture: As an Associated Student Government senator for Alianza-The Hispanic/Latino Student Alliance, Luis Frausto introduced legislation during his sophomore year to encourage a campus discussion about the controversial Arizona immigration law, calling it a human rights violation. As a senior he has played a key role in organizing students from Northwestern and the Chicago area in support of comprehensive immigration reform. In recognition of his efforts, Frausto received a scholarship from the Latino Alumni of Northwestern University in January.   
I am proud of: "This year I went to the Fair Immigration Reform Movement Summit and Immigrant National Convention in Montgomery, Ala., where I participated in a protest against Alabama's anti–illegal immigration legislation. I marched from the state House of Representatives to the governor's mansion, alongside members of the NAACP. I also listened to the personal recollections of two Freedom Riders at Dexter Avenue Baptist Church in Montgomery, Martin Luther King Jr.'s first church. When I looked around, it gave me chills to see that the church was packed with people of all races and ethnicities. It reiterated to me that this issue affects more than just Latinos."
Increasing access to education: "I have realized that, in a lot of minority neighborhoods in Chicago, students do not have the support they need to view higher education as a real possibility.
"I want to continue my involvement in human rights but I also want to seek ways to bridge the education gap among minorities. To address that need, I co-founded the Chicago Area Mentorship Program as a way to engage students in underrepresented and under-resourced areas. It's a student organization that aims to inspire high school students, for whom college is not typically seen as an option, to pursue higher education."