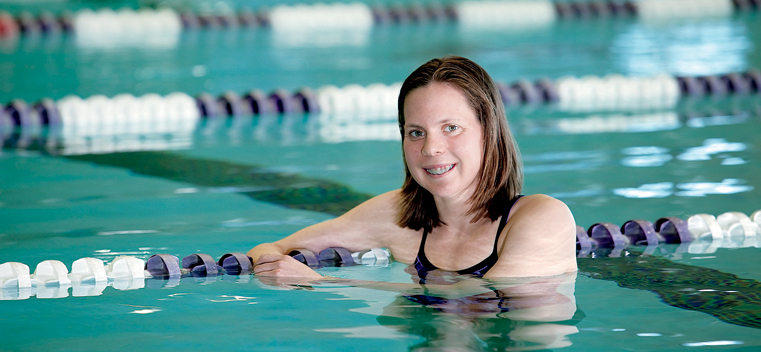 Photo by Ray Whitehouse (J12).
Jacquie Godbe
Story Tools
Share this story
Tell us what you think. E-mail comments or questions to the editors at letters@northwestern.edu.
Ever wonder about those strange designations we use throughout Northwestern to identify alumni of the various schools of the University? See the complete list.
Find Us on Social Media
Hometown: Rapid City, S.D.
Majors: Integrated science and chemistry
Big picture: Jacquie Godbe came to Northwestern to study in the Integrated Science Program and ended up with a double major in that and chemistry. An Academic All-American swimmer throughout high school, Godbe walked onto the women's swimming team, eventually earning an athletic scholarship. During her junior year she won a short story contest sponsored by the State(s) of America: The Regina Taylor Project. After graduation Godbe will enter the Feinberg School of Medicine's eight-year Medical Scientist Training Program to pursue a combined medical degree and PhD.
In her own words: "I was told by the Northwestern swimming coaches, 'You are going to work harder than you ever have in your life, and you'll probably be the slowest for a while. But we're going to challenge you, and if you're willing to take that challenge, we think you could grow here.' I wanted the challenge. They threw down the gauntlet and I took it up.
"I didn't even make the travel team when I started at Northwestern. I had never lifted weights before, I had never put in the amount of training that everybody was doing. It was a whole new level of competition, training and teamwork. You see the bar raised and you have to go after it.
"Swimming is so different from the Integrated Science Program that, whenever I got tired, I could go to the pool and not think about my work. They were complementary. They meshed well.
"I can't pretend that it didn't wear me out. But swimming is very deeply ingrained in my identity. I would have been lost without it.
"I also like to write in my free time. It's a hobby. It's so different from swimming or being in the lab. I can just decompress and be imaginative. I write whatever's on my mind.
"I want to go into medical research. You have a lot of opportunity for flexibility, hard work and creativity."