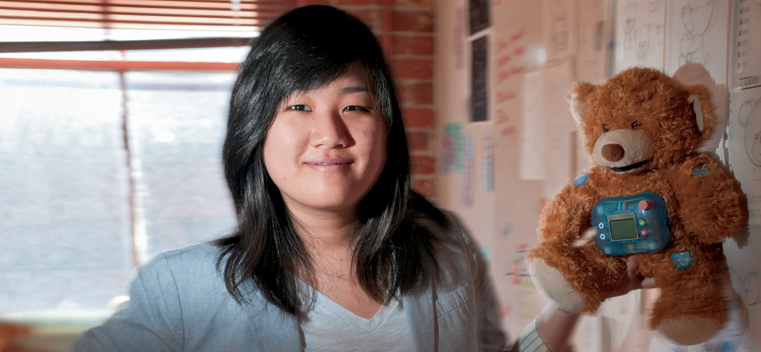 Photo by Mark Ostow.
Hannah Chung
Story Tools
Share this story
Tell us what you think. E-mail comments or questions to the editors at letters@northwestern.edu.
Ever wonder about those strange designations we use throughout Northwestern to identify alumni of the various schools of the University? See the complete list.
Find Us on Social Media
Hometowns: Fond du Lac, Wis., and Pohang, South Korea
Major: Mechanical engineering
Big picture: As a toddler struggling to grasp both English and Korean after a move from Minneapolis to South Korea, Hannah Chung turned to doodling. Drawing let her communicate when she couldn't find the right words. She called on those sketching skills when she helped found Design for America, a student initiative that uses design for social change. Her focus is on Jerry the Bear, a toy that teaches diabetic children to manage their condition. After completing her course work in December, Chung moved to Providence, R.I., to develop Jerry the Bear at a business accelerator. 
In her own words: "Design is a creative problem-solving skill. It encompasses art, science and engineering. What I think is unique about Design for America is that you don't have to be a designer. You don't have to be an art student or an engineer. Participants in DFA can come from any background, and we learn design together. DFA is not top-down. We learn design by doing, and we exchange our insights and lessons. It's a place where we encourage students to fail sometimes, because that's how you learn."
On Jerry the Bear: "Talking with doctors and parents and families, we realized that there was nothing to help children with Type I diabetes learn to treat the disease. There's no teaching tool that is intuitive for children. When you are young, you play with Play-Doh. You want to touch something. That's one reason we liked the idea for Jerry the Bear. Because it has an animal form or a doll form, the child can relate to it. Simply by playing, the child learns how to manage his or her glucose level, recognize symptoms and learn carb counting."