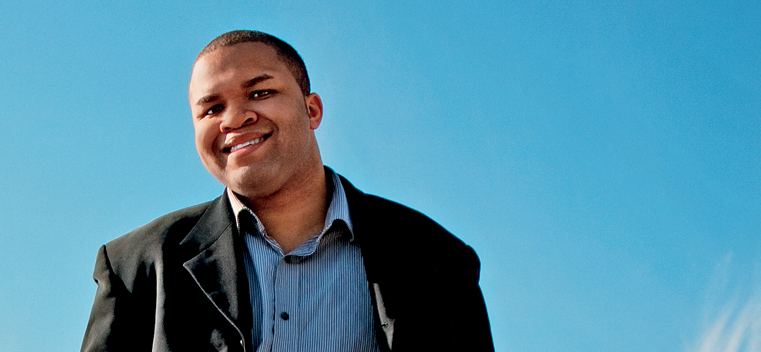 Photo by Drew Reynolds.
Derrick Clifton
Story Tools
Share this story
Tell us what you think. E-mail comments or questions to the editors at letters@northwestern.edu.
Ever wonder about those strange designations we use throughout Northwestern to identify alumni of the various schools of the University? See the complete list.
Find Us on Social Media
Hometown: Chicago
Major: Communication studies with minors in gender studies and political science
Big picture: Derrick Clifton is an advocate for equality at Northwestern and beyond through his engagement with the Lesbian, Gay, Bisexual and Transgender Resource Center. He also serves as the deputy opinion editor and writes a column for the Daily Northwestern, covering topics from gender roles and politics to stereotypes and the realities of racial tensions, both on campus and nationally. He describes his passion as "working toward empathizing with others."
In his own words: "What hits home for me are social justice issues relevant to the LGBT community and people of color. Some people may try to not rock the boat or to minimize conflict whenever possible, and that's great. But oftentimes we need to have open and honest dialogues about important community and social justice issues. Not everyone will speak up, but I feel that I have a responsibility to myself and to my communities to do that. I figure if no one else is talking or thinking about these issues and I don't say anything to encourage discussion, who will?"
On shaping the conversation: "No single community is a monolith. With me, for example, you can't just look at me as simply a person of faith or as a queer person or a black person. You have to look at the whole person, which is why I strongly believe in the theory of intersectionality as a lens to view social inequalities.
"I'm most interested in engagement with the media, because oftentimes it's what's being said or discussed in media outlets that helps shape really important national conversations. This realization has fueled my interest in a career in public relations or journalism."