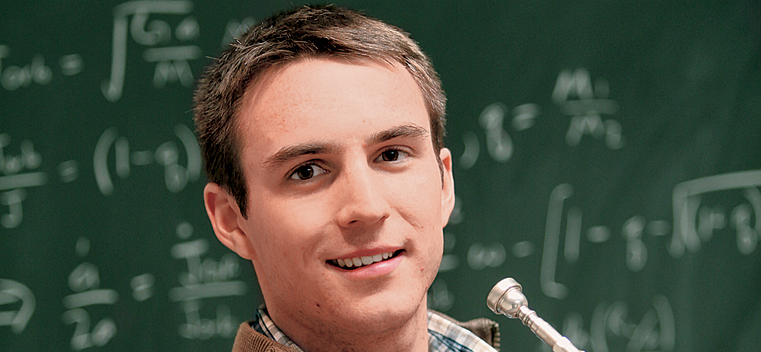 Photo by Stephen Anzaldi (GC10).
Kyle Kremer
Story Tools
Share this story
Tell us what you think. E-mail comments or questions to the editors at letters@northwestern.edu.
Ever wonder about those strange designations we use throughout Northwestern to identify alumni of the various schools of the University? See the complete list.
Find Us on Social Media
Hometown: Kettering, Ohio
Majors: Trumpet and physics
Big picture: Part of Kyle Kremer's astrophysics research might focus on how to stretch time. Somehow the senior manages to balance 30 hours of trumpet practice every week with cutting-edge astrophysics research. (He also squeezes in service commitments with the Sheil Catholic Student Center on campus.) Beginning this fall he'll continue to do both as a Churchill Scholar at the University of Cambridge. (Read more about Kremer's incredible balancing act in "Trumpeting a Music/Science Combo" from Northwestern News.)
In his own words: "I love to perform and love to do research, and I didn't see a reason to give either one up. Music enhances my ability as a scientist. You develop a distinctive interpretation of music, a personal taste. In the same way it's important for a scientist to find a distinctive way to look at problems. That's how we get scientific breakthroughs.
"Scientists sometimes take a very narrow approach to their fields, and if you are not careful, it's hard to see beyond your work. Being a musician helps me step aside from science and stay 'in tune' with the bigger picture.
"I'm not a super genius. I've had good opportunities, and anyone can take advantage of opportunities if they open their eyes and see what's out there. If you have other interests, you have to go for them. Don't let yourself be bound by the fact that no one's ever done it before. That's just stupid. Who's to say that you won't be the first?"
Don't be afraid of failure: "I think of it this way: As a musician I can have a bad performance, but I can't dwell on it. I have to remember the good performances and move forward. A lot of times I might be disappointed because I am focused on myself. I try to make myself aware of the people I'm performing for or the people my research is helping. That gets me past the narrow-minded and selfish thoughts, and then there's no disappointment. I am helping the world in some way. And when I have that mindset, I feel a lot more fulfilled."
On stargazing: "Almost everyone loves thinking about astronomy, physically or philosophically."