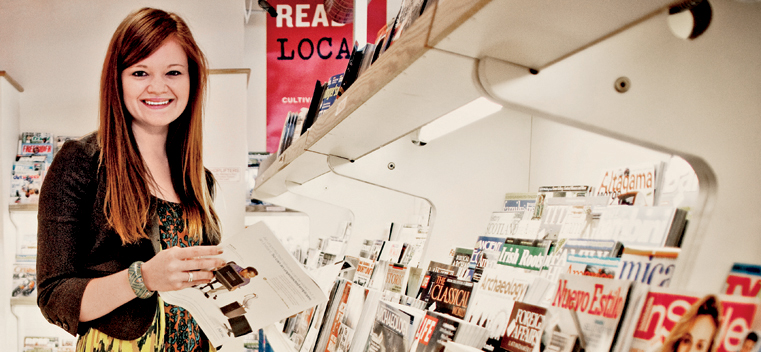 Photo by Drew Reynolds.
Drew Gannon
Story Tools
Share this story
Tell us what you think. E-mail comments or questions to the editors at letters@northwestern.edu.
Ever wonder about those strange designations we use throughout Northwestern to identify alumni of the various schools of the University? See the complete list.
Find Us on Social Media
Hometown: Brookfield, Wis.
Majors: Journalism and economics
Big picture: An accomplished business reporter, Drew Gannon is putting her journalism career on hold to teach. Gannon has interned at CBSMoneyWatch.com and Inc. Magazine, and she hopes to one day write about the intersection of business and culture. After reporting from Madagascar on chocolate entrepreneurs through the Eric Lund Global Research and Reporting Grant in the spring, she'll head to Brooklyn to teach at Achievement First Bushwick Elementary School with Teach for America. 
In her own words: "I wanted to take two years off to do something that I'm really passionate about. I wrote a story about Teach for America for my magazine reporting class, and I realized that you really need the right mindset, drive and passion to be successful in Teach for America. Once I realized that, it became a challenge to me as a competitive person.
"I started to think about how education inequality fits into the reporting I was doing on business — that if we have a poorly educated workforce coming out of our schools, what does that mean for the economy? It became more than just a story.
"So I've worked for Teach for America during the school year as a recruiter, and next year I'll be teaching in Brooklyn. I'm really excited to work with low-income families and see these kids succeed. This experience will give me some perspective. I really want to understand what a low-income family is dealing with on a day-to-day basis and what issues are important to them, so that when I'm finished with my two years in the corps and I go back full force into journalism, I'll be writing stories that matter to a broad spectrum of people."