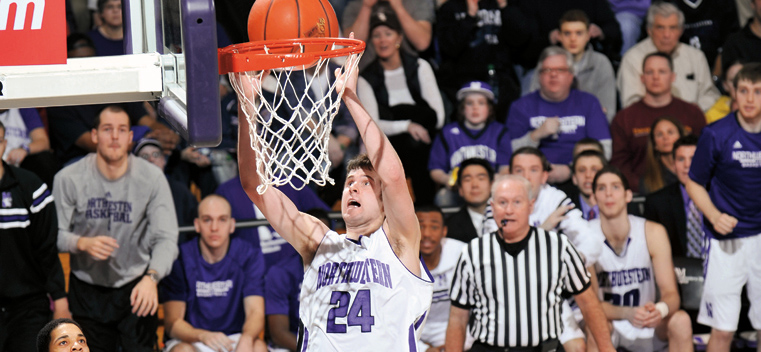 Photo by Stephen J. Carrera/Northwestern Athletic Communications
John Shurna
Story Tools
Share this story
Tell us what you think. E-mail comments or questions to the editors at letters@northwestern.edu.
Ever wonder about those strange designations we use throughout Northwestern to identify alumni of the various schools of the University? See the complete list.
Find Us on Social Media
Hometown: Glen Ellyn, Ill.
Major: Sociology and learning and organizational change
Big picture: When men's basketball forward John Shurna first arrived in Evanston, few could have predicted what he would accomplish in his four years. The season before his arrival, the Wildcats won only one Big Ten game. With him as a leader, the program has risen to new heights. Shurna now ranks first all-time at Northwestern in points, blocks and games played — and he has remained humble in doing so. He has the chance to become the first Northwestern player in a decade to play in the NBA. ("Get to Know John Shurna" with this Wildcat Fastbreak video interview.)
In his own words: "I didn't know I was going to play college basketball until after my junior year of high school. I just kind of assumed I would probably go on to be a normal college kid.
"My humility comes from my parents. Whether I had a good game or a bad game, I still had to do my homework. There were still chores to be done. They were always there to support me, but at the same time, they made it known that academics come first."
On the rise of Northwestern basketball: "I didn't know that we had never made the NCAA tournament before I got to Northwestern. My freshman year, we were just happy to be in the NIT [National Invitation Tournament] because of the turnaround. All of these years we came pretty close. I guess it just wasn't meant to be this year or in my time here.
"Changing the culture of the basketball program is what I'm most proud of. I felt like our class had done something when Senior Night rolled around and people were waiting outside for the game and rushing in to get a good seat. I like to think that now Northwestern basketball is relevant. Now I think everyone definitely respects us."
On the future: "As student-athletes, we don't get a chance to study abroad, so playing basketball in Europe right out of college seems like a wonderful opportunity. But obviously, at the same time, I might as well shoot for the stars and try to make the NBA."