High Life in the Low Countries
by Phyllis Scanlan
---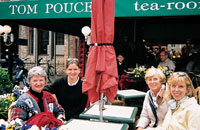 Photo by Carolyn Sparks
A spring visit to a land of tulips, windmills and great art was the promise of our Northwestern Alumni Association Alumni Campus Abroad travel program,"Cruise the Magnificent Waterways of Holland and Belgium."
Our home for this travel and educational experience was the MS Swiss Pearl, a two-deck riverboat, serving delicious, elegantly presented five-course dinners and scrumptious breakfast buffets. My husband, Bill, and I joined 28 other Northwestern alumni and friends in this delightful travel adventure that began in Amsterdam.
Our travel aboard the ship made for an easy, one-stop educational travel experience with the advantage of staying in one facility while enjoying walking tours and bus excursions to historic cities and the scenic countryside.
An early high point was a visit to the Keukenhof Gardens outside Amsterdam. These flower gardens, once the kitchen garden of an early 15th-century countess, are hailed today as the"greatest flower show on earth." The 70-acre park is leased to the Holland bulb growers, who plant nearly 8 million flowers - tulips, daffodils, hyacinths and other bulbs.
Eagerly, many of us ordered bulbs, which will arrive this fall, bringing memories for years to come of these incredible gardens, called" Holland's annual spring gift to the world."
The following day our visit to The Hague began with a stop at the Royal Picture Gallery, the famed Mauritshuis museum. Of course, many of us headed immediately for Jan Vermeer's famous Girl with a Pearl Earring and his View of the Delft. A roomful of magnificent Rembrandts and paintings by Holbein, Rubens and Bruegel was among our favorites in this wonderful collection.
We lunched in the Netherlands' seaside resort town of Scheveningen, a town we found impossible to pronounce (it's SKAY-ve-ning-ge). It seems we were not the only ones with this trouble. During World War II, the people of Holland used the pronunciation of this village as a test to discover German infiltrators and spies.
Upon arriving in Delft we visited a factory where the famous earthenware is painstakingly painted by hand. Although the paint appears black, the pottery has the traditional blue-colored designs after firing. The town of Delft was charming with tree-lined canals, a picturesque market square and Vermeer's home.
One of the joys of this trip was that we were frequently provided time on our own to explore the cities, parks and museums. We could set our own pace, knowing that the only constraints were the time and place for reassembly.
"Pump or drown" is a fitting motto for a country where one-third of the land has been reclaimed from the sea. The Netherlands is an amazing conglomeration of polders (the land formerly under water), dikes and canals. Our tour of the Delta Project in the province of Zeeland gave us the opportunity to observe and study the incredible hydraulic engineering feat that has been created as a response to calamitous flooding. This extensive system of dikes, sluice gates, man-made islands and storm surge barriers provides protection from incursions of the North Sea. The gates close when the sea level becomes dangerously high. The rest of the time they remain open, maintaining an estuary environment for flora and fauna.
We all had been eagerly anticipating our excursion to Bruges, Belgium, a medieval city dubbed"the Venice of the North." Bruges' cobblestone streets, magnificent cathedrals, Michelangelo's Virgin and Child (the only Michelangelo statue to leave Italy during his lifetime), and picturesque architecture are some of the attractions of this UNESCO World Heritage City. Upon our arrival, we dispersed, some to take a canal boat ride, others to join an architectural tour, and still others to shop for Belgian chocolate and the famous bobbin lace or to stroll the streets of this incredible town.
After a final day exploring Antwerp we returned one last time to our ship for the captain's farewell banquet and our"graduation" ceremony. At its conclusion, we enthusiastically joined in singing"Go U Northwestern" led by Bill Conover (EB50).
Congenial companions, new friends, enlightening lectures and opportunities to explore historic and attractive villages and cities - it had been a magical visit to the Low Countries of Northern Europe.
Phyllis Scanlan (J58) lives in Glen Ellyn, Ill.
---