Painting Life with Ageless Zest
Octogenarian artist Ann St. John Hawley's (C42) continued creativity shows in her art.
---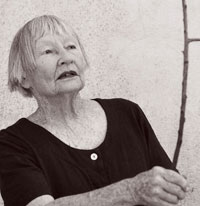 Photo by Saskia Vanderlingen
"I'm just on fire inside!" says 84-year-old Ann St. John Hawley (C42)."I have to make art. I have to be a dancer. I have to create."
Known for her abstract artwork as well as her vigorous vitality, Hawley is like a dancing flame whose energy shines from Taos, N.M. Despite the need for extra oxygen and daily naps, Hawley goes to her studio at the foot of Taos Mountain every Monday morning. There the petite woman meets with a drawing group to sketch and paint nudes.
The image of the human figure flows from Hawley's paintbrush. Her rice-paper-covered canvases are a whirlwind of sweeping arches painted with melodic blends of watercolors."It's the great power that I paint from," Hawley says."It's the mystery of this life we have here, this miracle."
Hawley's work inspired friend Michelle Vandepas to make the 2002 documentary Woman as Butterfly: The Spirit of Ann St. John Hawley."She is a great role model and inspiration for us all," Vandepas says."She embodies a life well lived for women. She's managed to have a career, education, children, creativity, art and dance at different times in her life."
In 1975 Hawley and her late husband, Robert, retired to north-central New Mexico. When Robert died 18 years later, Hawley entered a world free from responsibilities."All I had to do was think about myself, so I became extremely selfish," she says."You lose something, and you gain something. It was then that my art really blossomed."
Hawley's artwork springs from a childhood that took her from Panama to the Philippines due to her father's career as a U.S. military doctor. Everywhere she went she found beauty, and"what was beautiful influenced me," she says.
This sensitivity to the world's beauty matured into Hawley's theory of integration and disintegration, the philosophy that has guided her creativity. Hawley's art tries to capture moments like the withering of a flower, when matter is falling apart and recomposing itself.
Hawley came to Northwestern in 1939 to study theater and dance but discovered that she"didn't have the inner nervous power needed for an actor," she says."I realized that inside my heart, I wanted to be a painter."
But she also wanted to be a mother. Hawley and her husband, a pathologist, settled in Denver, where they raised six children. After earning her master's in painting from the University of Denver in 1973, Hawley and her family moved to Kansas City. At the Kansas City Art Institute she first discovered sumi, an ancient Chinese painting technique that she uses to add spontaneity and freshness to her canvases.
She taught herself the technique, in which sumi artists devote their entire lives to studying one subject, practicing until their technique is forgotten and they can paint without thinking. Hawley describes the process as"spirit coming through the artists onto the paper."
Hawley studied the human figure until its image flowed from her paintbrush."I already had the spirit," she says."It was like I found my place in the world."
Hawley will display that spirit in her upcoming show,"Remembering the Lotus Pond," which runs Oct. 16 through Nov. 14 at New Directions Gallery in Taos.
- Heidi Zhou (J07)
---