Honoring Our Own
The Northwestern Alumni Association celebrated the success of distinguished alumni at the annual Awards Celebration in April.
---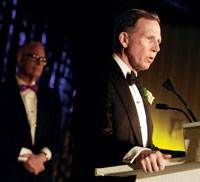 Photo by Kevin Weinstein
With pride and gratitude, the Northwestern Alumni Association hosted 385 members of the University community to honor 19 prominent alumni at the 2004 NAA Awards Celebration in April.
Since 1931 the tradition has recognized outstanding alumni for their professional, volunteer and philanthropic achievements. University President Henry S. Bienen and Leigh Buchanan Bienen were among the special guests at this year's celebration, held at the Hotel InterContinental Chicago on Michigan Avenue in downtown Chicago.
Eric Gleacher (WCAS62), chairman of the international banking firm Gleacher Partners LLC, received the 2004 Alumni Medal, the University's highest alumni honor, for his leadership in the field of mergers and acquisitions, his accomplishments as an award-winning amateur golfer and his philanthropy in support of Northwestern's men's and women's golf teams.
In 1999 Gleacher's $6.1 million gift to the University created the state-of-the-art Gleacher Golf Center (housed in Patten Gymnasium), considered the finest indoor learning center in collegiate golf. He also endowed the men's and women's golf teams in perpetuity ("On Course," summer 2004).
After accepting his award, Gleacher expressed his thanks to Northwestern for the education he received and the opportunities it created, and praised the men's and women's golf teams for their consistently high athletic and academic standings.
"What our golfers have accomplished both individually and as a team over the past 10 years - numerous Big Ten and NCAA successes and consistent academic honors - is very impressive," Gleacher said."Because of this success, the strength of the men's and women's coaches and the indoor practice facility, it's becoming easier to recruit high-caliber players from around the country."
Sona Wang (KSM86), this year's NAA Awards committee chair, presented Merit Awards to 11 alumni in recognition of their professional achievements: Adolfo Autrey (KSM70), chairman of the Mexican company Papelera General; Elisabeth Bumiller (J77), author and White House correspondent for the New York Times; Orbert C. Davis (GMu97), jazz trumpeter, composer and founder of Music Alive! education program; William O. Hochkammer Jr. (L69), partner in the law firm Honigman, Miller, Schwartz and Cohn LLP; Larry Irving (WCAS76), president, Irving Information Group and assistant secretary of commerce for communications and information in the Clinton administration; Lindsey Parker Novak (SCS78), syndicated columnist and workplace consultant; D. Eugene Nugent (McC51), retired chairman and CEO of Pentair Inc.; Ronald Louis Sakaguchi (D80), professor of biomaterials and biomechanics at Oregon Health & Science University; Neena B. Schwartz (GFSM50, 53), William Deering Professor Emerita of Biological Sciences and founder and director emerita of the Center for Reproductive Science at Northwestern; David L. Schwimmer (C88), TV and film actor, stage director and co-founder of the Lookingglass Theatre; Barbara Olin Taylor (KSM78, GSESP84), author, education consultant and co-founder of the National Center for Effective Schools Research and Development.
Lois Weisberg (C46) ("Chicago's Culture Queen," spring 2004) accepted this year's Service to Society Award for her work in promoting the city of Chicago through the arts as the city's commissioner of the Department of Cultural Affairs. In addition to overseeing Chicago's tourism efforts, she directed the renovation of the 1897 Chicago Public Library Building into the Chicago Cultural Center, created the Gallery 37 project that provides art-related jobs for city youth and organized such public events as Cows on Parade, Taste of Chicago and Chicago Summerdance.
Six alumni received Service Awards for their volunteer efforts for Northwestern: Leslie Donavan (L82), NAA and School of Law volunteer; Sidmel Estes-Sumpter (J76, GJ77), Medill School of Journalism volunteer; Tyrone C. Fahner (L71), law school volunteer; Kathryn Kimura Mlsna (WCAS74, L77), chair of the Council of One Hundred and founding chair of NU-A5; Miguel Ramírez Barber (KSM76), past president of the Kellogg Alumni Club of Mexico; Alexis Sarkisian (C71), chair of the planning committee for the 2003 and 2004 A Day With Northwestern in Evanston Seminar Day events.
To view biographies of this year's awards recipients, visit the NAA web site at www.alumni.northwestern.edu.
---