A Time to Celebrate, Reunite and Reminisce
More than 270 returned to campus to celebrate Spring Reunion Weekend.
---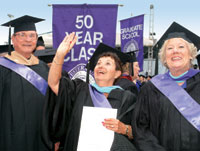 Photo by Mary Hanlon
In keeping with Northwestern's Commencement tradition, senior alumni returned to the Evanston campus for the Northwestern Alumni Association's Spring Reunion weekend.
This year's celebration, June 18-20, brought 278 alumni and guests back to Northwestern, including members of the 50th reunion Class of 1954, who dressed in caps and gowns and participated in the 2004 Commencement ceremony at Ryan Field despite cloudy, drizzly conditions.
The following day, class members toured the Evanston campus, then joined alumni from previous classes at the Norris University Center to be inducted into the Half Century Club. They also heard University President Henry S. Bienen's lecture"New Challenges for U.S. Foreign Policy."
Reminiscing continued for the Class of'54 at the 50th reunion dinner dance at the Woman's Club of Evanston. Co-chairs Virginia Landwehr (C54) and Roberta Buffett Bialek (WCAS54), in a brief departure from the evening's nostalgia, made new memories by modeling Baywatch-inspired T-shirts that left classmates howling in their seats.
Sunny skies graced the reunion alumni as they wrapped up the weekend's festivities with a farewell brunch at the John Evans Alumni Center and an architectural cruise along the Chicago River.
---