Regional Clubs
---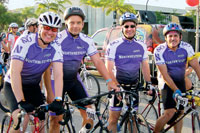 Photo by Rita Dias de Moraes
In June members of the NU Club of Chicago rolled up their sleeves to work at the annual Chicago Cares Serve-a-thon. Volunteers cleaned, planted and painted at various spots throughout the city and ended the day with a party at Soldier Field. In May members celebrated Cinco de Mayo at the Mexican Fine Arts Center Museum in Chicago with members of NUPIAA (Northwestern University Public Interest Alumni Association). The club's annual Ravinia event in July, held with NUGALA (Northwestern University Gay and Lesbian Alumni), included a box lunch picnic and jazz performances by pianist Jim Brickman and trumpeter Chris Botti.
In April the NU Club of Coachella Valley hosted a western-style barbecue that drew 42 alumni and guests to the Palm Springs, Calif., home of Lynn and Doug Westwater (WCAS67). Upcoming events include a wine-tasting in November, a theater party in January 2005 and a music revue by undergraduate performers in March.
More than 50 alumni and friends from the Portland, Ore., area learned about current research in biotechnology when the NU Club of Portland hosted"Small Is Big: Science That's Changing the Quality of Your Life" in March. Rex L. Chisholm, director of the Center for Genetic Medicine, Adam and Richard T. Lind Professor of Medical Genetics and professor of cell and molecular biology and surgery at the Feinberg School of Medicine; John A. Kessler, Benjamin and Virginia T. Boshes Professor of Neurology, chair of the Department of Neurology and director of the Evelyn Frances Feinberg Clinical Neuroscience Research Institute at the Feinberg School of Medicine; and Mark Ratner (G69), Charles E. and Emma H. Morrison Professor of Chemistry in the Judd A. and Marjorie Weinberg College of Arts and Sciences, discussed the impact of nanotechnology, genetics and stem cell research on everyday life.
Members of the NU Club of San Diego enjoyed a May day at PETCO Park, where they watched the Chicago Cubs beat the San Diego Padres. (The Padres' All-Star second baseman is Mark Loretta [SESP93].) In June School of Law clinical professor Douglas Cassel presented"Law and Liberty in the War on Terrorism."
Members of the NU Club of South Florida supported four of their own in April when Wayne Berry (D85), Derek Ernst (KSM02), Sergio Goloubeff (KSM95) and William Kotas (KSM86) pedaled 150 miles round trip from Miami to Key Largo as Team Northwestern during the MS 150 bike ride. The cycling quartet, wearing official uniforms purchased from the Northwestern cycling club team, endured sweltering heat and strong winds. They raised more than $2,500 for multiple sclerosis research, twice the amount raised in 2003. Much of the pledged total came from fellow Northwestern alumni.
Learn how to participate in NAA clubs by visiting www.alumni.northwestern.edu
---