National Clubs
---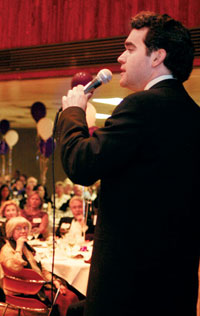 Photo by Jasper Chen (McC04)
The Council of One Hundred will honor Eileen Ahasic, a senior communication studies and economics major; Dianne Esber, a senior industrial engineering and economics major; Valliammai Muthappan, a senior chemistry major; and Carrie Nieman, a junior communication studies and biology major, this year's winners of the club's Trailblazer Award, at its fall meeting Oct. 13-14 on the Evanston campus. The award recognizes female students (then sophomores and juniors) who hold a minimum 3.0 grade point average and demonstrate courage, initiative, innovation, risk-taking and leadership. The club's 2005 spring meeting is set for April 13-14.
Attending the Waa-Mu show on the first Saturday in May has been a longtime John Evans Club tradition. This year more than 300 members celebrated the club's 50th anniversary at a black tie dinner at the Norris University Center before the performance. Northwestern's pep band, playing the University's fight song and alma mater, marched guests into the party, and Broadway actor and music theater alumnus Brian d'Arcy James (C90) led members in singing the Waa-Mu favorite"To the Memories." Guests included former alumni relations director Dick Slottow (GJ50), who worked with founding John Evans Club members to establish the club.
The NUMBALUMS (Northwestern University Marching and Band Alumni) are kicking off the new school year with the release of Hail to Purple: A 50-Year Retrospective of the Northwestern University"Wildcat" Marching Band. The 70-minute CD collection also includes a 20-page booklet of liner notes and photos. As part of the NUMBALUMS Historical Recording Project, members voted for their favorite arrangements and funded production and promotion costs through donations. The CD will be available at the Norris University Center bookstore and other Evanston retailers. Cost of the disc is $16, including sales tax (add $4 for shipping and handling within the continental United States and $5 outside the continental United States), and proceeds will support special projects within the University band department. To order, send a letter including your name, mailing address and payment to NUMBALUMS CD Order, c/o Northwestern Alumni Association, 1800 Sheridan Road, Evanston, IL 60208.
Learn how to participate in NAA clubs by visiting www.alumni.northwestern.edu.
---