Meet Northwestern's Class of '19 Schwarzman Scholars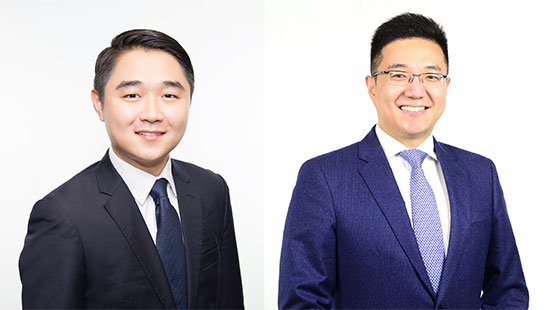 Schwarzman Scholars, the master's degree program at Tsinghua University in Beijing, recently announced its third class. 142 Schwarzman Scholars, including two Northwestern alums, were selected from over 4,000 applicants. The Class of 2019 is comprised of students from 39 countries and 97 universities with 41% from the United States, 20% from China, and 39% from the rest of the world. The Class of 2019 will enroll at Schwarzman College on the Tsinghua University campus in Beijing in August 2018.
Jung Sup (Andrew) Lim (left) graduated in 2014 from Northwestern University with a double major in economics and communication studies. Previously, Andrew worked at Bank of America Merrill Lynch in Hong Kong, where he advised corporations on international capital markets transactions. Currently, Andrew is director of a Hong Kong venture capital platform, and is leading the firm's expansion into China, Korea and the Kingdom of Bahrain. He is also an angel investor and advisor to multiple startups in Asia. Upon completion of Schwarzman Scholars, Andrew hopes to continue his career in venture capital to help scale technologies that address global problems. Andrew is 25 years old and from Canada.
Bozhong Xue (right) graduated in 2012 from Northwestern University with a double major in civil engineering and sociology, plus a minor in transportation and logistics. After graduating, he returned to Beijing and started his career in the two largest state-owned financial companies: Citic Group and Everbright Group. With hands-on experience in the field, Bozhong started his own company in 2015 and is now focusing on the Chinese real-estate market through M&A funds and REITS. Through the Schwarzman Scholars program, Bozhong hopes to gain a holistic perspective about the world. Bozhong is 28 years old and from China.
The distinguished group of interviewers who were responsible for selecting the Class of 2019 included Ambassador Caroline Kennedy, former United States ambassador to Japan; General (Ret.) David Petraeus, member and chairman of KKR Global Institute; Shelly Lazarus, chairman emeritus of Ogilvy & Mather; Cathy Engelbert, CEO of Deloitte; Arianna Huffington, co-founder of The Huffington Post; Lionel Barber, editor of the Financial Times; Bruce Gosper, Australian high commissioner to Singapore; Joshua Ramo, co-chief executive officer and vice chairman of Kissinger Associates, Inc., and many others.
Contact Amy Kehoe today at amy.kehoe@northwestern.edu to learn more about the Schwarzman Scholars.