Green Cup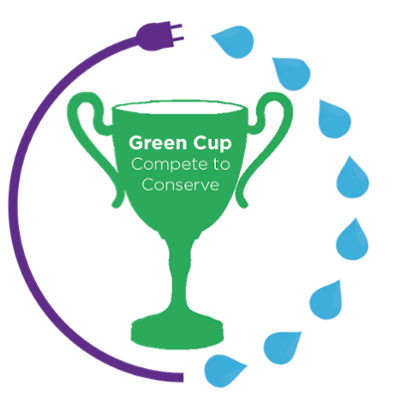 Green Cup is an annual month-long competition which will take place from October 19 - November 15, 2015, challenging Northwestern students living in campus residence halls and Greek housing to reduce energy and water use. Green Cup is a student driven initiative with Students for Ecological & Environmental Development (SEED) leading the effort. The first Green Cup was put on in 2006 by students with the help of Facilities Management.

The goal of Green Cup is to engage students in behavior change and provide a better understanding of the impact of their daily activities. Simple changes and increased awareness can significantly reduce water and electricity consumption. Scoring is based on a per person percent reduction in usage as compared to an established baseline usage for the individual residence.

Visit Green Cup's facebook page to get the most up-to-date information.
Green Cup 2015 events:
Green Cup kickoff and WALL-E screening
Sunday, October 18
6:00-9:00 pm
Harris 107
Learn all about Green Cup while enjoying pizza and a screening of WALL-E! 

"Food for Thought, Food for Life" short film screening and discussion
Tuesday, October 20
6:00 pm
Annenberg G15
Join Real Food at NU and Dance Marathon for snacks and a short film about agriculture and the need for a sustainable food system.

Discussion with Jim Furnish
Tuesday, October 20
6:30-8:30 pm
University Hall 122
Jim Furnish, former US Forest Service Deputy Chief, will lead a discussion about the future of forests and his new memoir, Toward a Natural Forest: The Forest Service in Transition.

Fresh Market
Thursday, October 22
1:00-2:00 pm
Norris East Lawn
Enjoy a farmers market presented by NU Dining for Food Day 2015!

"The Ethics of What We Eat" - a talk by Rachel Atcheson
Thursday, October 22
8:30 pm
Tech LG76
Rachel Atcheson of the Humane League will be giving a talk about industrialized and animal agriculture. Hosted by the NU Veg Society.

"Hidden Harvest" - scavenger hunt
Friday, October 23
2:00-5:00 pm
Check the Real Food at NU Twitter for location clues!
A scavenger hunt presented by Real Food at NU and Chicago Food Day. Follow the clues to find prizes worth $200!

Greek house poster making
October 23-27
All Day
Artica
Make an eco-themed poster with your Greek house to display on your porch!

Urban agriculture trip to Loyola University
Saturday, October 24
10:00 am-1:00 pm
Meet at the Foster El stop at 10:00 am
Check out Loyola's urban and sustainable agriculture initiatives, like their gardens, greenhouse, aquaponics system, biodiesel lab and more! Sign up with this form.

Eco-Reps scavenger hunt
Saturday, October 24
3:30 pm
Norris East Lawn
Learn about sustainability at NU by finding sustainable features of our campus! Winning teams receive extra Green Cup points. Hosted by Eco-Reps.

Wild Roots work day
Wednesday, October 28
1:00-2:30 pm
Wild Roots Garden (Norris, South Lawn)


Green Tea with GREEN House
Sunday, November 1
8:00-9:00 pm
GREEN House lounge, 2303 Sheridan Road
Join GREEN House for tea, snacks and a conversation about sustainability!

A teach-In for climate justice
Thursday, November 5
7:00-8:00 pm
Harris L07
Join Fossil Free Northwestern to learn about all aspects of climate justice and their fight for divestment.

Wild Roots work day
Sunday, November 8
1:00-2:30 pm
Wild Roots Garden (Norris, South Lawn)

"Chicago and its Botanic Garden" book presentation
Thursday, November 12, 4:30-5:30 pm
New Books Alcove, Northwestern University Library
Cathy Jean Maloney, author of Chicago and Its Botanic Garden: The Chicago Horticultural Society at 125 (NUP, 2015) will give a presentation about her book, followed by a Q&A about working with publishers, garden history, and the role of environmentalism and sustainability in urban gardens. Copies of her book will be available for sale at a discount.

Green basketball game
Friday, November 13
7:00 pm
Welsh-Ryan Arena
NU Basketball goes green by featuring programming on sustainability and recycling during the game. This game is organized and hosted by the Athletics Sustainability Committee.

Green Fest
Saturday, November 14
2 p.m. - 5 p.m. 
Louis Room, Norris
Join Eco-Reps and other environmental organizations to learn about sustainability opportunities at Northwestern and play games!
Energy and water saving tips
Here are ten simple things you can do to conserve water and energy:
Take shorter showers.

Turn off the faucet or shower when brushing your teeth and shaving.
Only wash full loads of laundry and use cold water.

Hang clothes to dry instead of using the dryer.

Upgrade your computer power management settings and reduce screen brightness.

Set your thermostat low and shut your windows.
Switch to efficient light bulbs and use task lighting.

Turn off lights when not needed.

Use a power strip to make powering down chargers and electronics easier.

Study together in common areas and use fewer lights per person.
Use this list as a reminder to turn off and unplug when leaving your room:
Lights
Radio/stereo
Game system
Chargers
Computer
TV/DVD/etc.
Printer
Fan
Better yet, use a power strip for a one-click power down.
________________________________________________________________________________________
Green Cup is supported by the Office of Sustainability, Eco-Reps, Facilities Management, and the Institute on Sustainability and Energy at Northwestern (ISEN).
Back to top