Earth Week
Northwestern celebrates Earth Day throughout April with a wide variety of events designed to engage the University community in issues of environmental sustainability. In 2016, the Office of Sustainability hosted several fun and educational events highlighting energy efficiency, natural resources, waste, and sustainable transportation. In addition, student organizations, offices, and academic departments organized activities ranging from a panel discussion on environmental justice to a race to turn off the lights in campus buildings. Here are a few highlights of the 2016 celebrations. Visit the Office of Sustainability Facebook page for more photos from the events.
ENERGY STAR® photo booth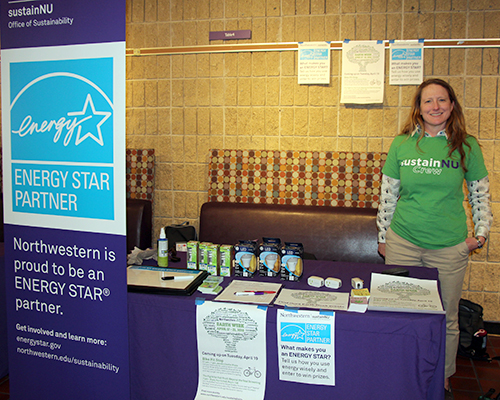 ENERGY STAR is a U.S. Environmental Protection Agency program that helps organizations and individuals save money and protect our climate through superior energy efficiency. Northwestern is an ENERGY STAR partner, and during April, the Office of Sustainability hosted several ENERGY STAR photo booths designed get the campus community thinking about energy efficiency. Students, faculty, and staff wrote down what they do to save energy and snapped photos to share their ideas.
Bike pit stop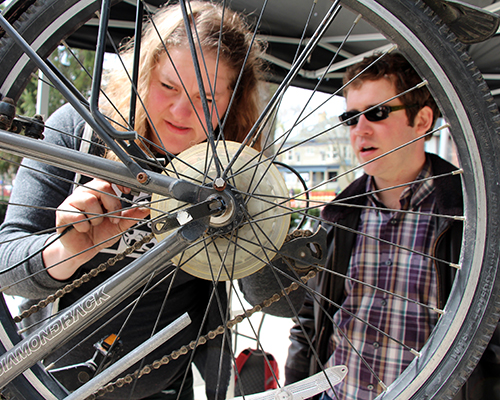 The Office of Sustainability teamed up with local bike shop Wheel & Sprocket and the Northwestern Cycling Committee to host a bicycle pit stop on campus. A bike mechanic from Wheel & Sprocket pumped up tires, made minor fixes and adjustments, and offered advice for larger repairs that couldn't be done on the spot. The event helped campus cyclists get up and rolling on their bikes and drew attention to cycling as an environmentally friendly and healthy form of transportation.
Mount Trashmore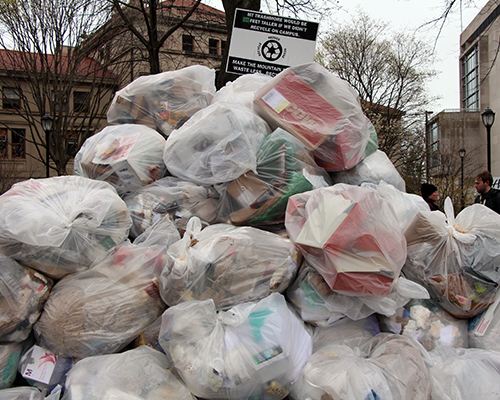 Mount Trashmore is an annual tradition at Northwestern. Staff and student volunteers construct a mountain of trash to call attention to the amount of waste generated on campus. Signs and volunteers offers tips for recycling, reusing, and otherwise reducing waste. At the 2016 event, student volunteers dressed in fun costumes and passed out reusable water bottles, shopping bags, and sporks, encouraging students to opt for reusable rather than disposable items whenever possible. In Our Nature magazine created a graphic picking apart the types of garbage that made up the mountain.
Arbor Day tree planting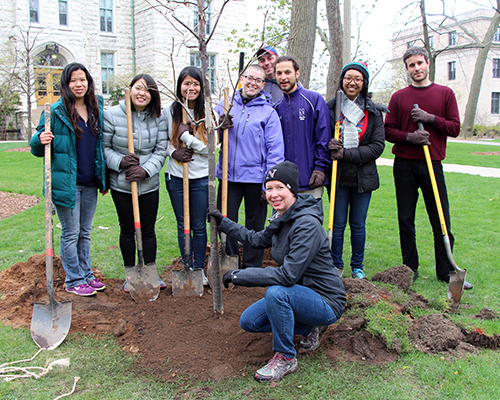 Student, staff, and faculty volunteers teamed up with members of the Northwestern landscaping team to plant a total of nine trees on campus in honor of both Earth Day and Arbor Day.
The Department of Anthropology got in on the fun by planting a tree as a celebration of receiving Green Office Certification.
Celebrating sustainable food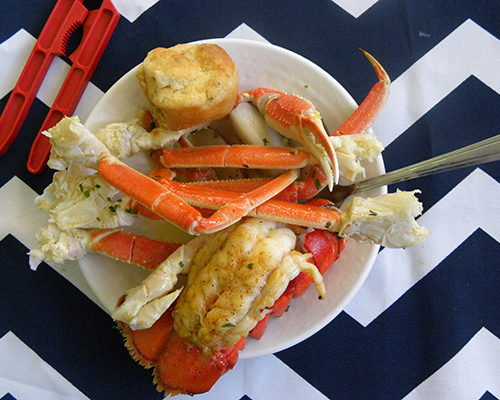 During April, Northwestern Dining presented events and meals centered around sustainable methods of food production. The Allison dining hall was transformed into a seafood restaurant during Sustainable Seafood Week, with Chef Mark Grosz of Oceanique demonstrating delicious ways to prepare seafood from responsibly managed fisheries. On April 18, Northwestern Dining worked with Real Food NU to serve a lunch made of food from locally based, fair, ecologically sound, and humane sources. This was a great step toward the University's goal of serving at least 20 percent real food by 2020.
Back to top