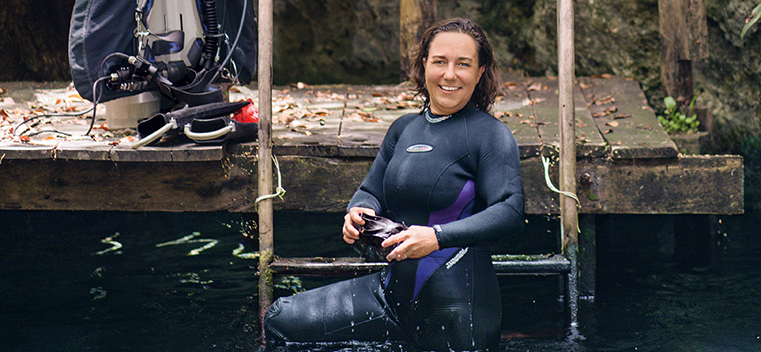 Professor Patricia Beddows gets ready to dive into a sinkhole 70 miles south of Cancún. This sinkhole — which is called "Where Are We," capturing the sentiment of the discoverers who surfaced from the flooded cave to see the jungle canopy — is one of hundreds along the 155 miles of interconnected underground rivers that make up the flooded Sac Actun cave system in the Yucatán. Beddows has recorded unusually high water flows up to 10 miles per day through this site, making for an exhilarating cave-diving trip downstream toward the coast. Photo by Dean Sanderson.
Cave Woman
Story Tools
Share this story
Elizabeth Canning Blackwell '90 is a freelance writer in Glenview, Ill.
Tell us what you think. E-mail comments or questions to the editors at letters@northwestern.edu.
Ever wonder about those strange designations we use throughout Northwestern to identify alumni of the various schools of the University? See the complete list.
Find Us on Social Media
Earth scientist Patricia Beddows goes deep into the Yucatán's underwater caverns to help solve the mystery behind some of North America's oldest human remains.
Though she's made her reputation exploring underground rather than shooting for the stars, Earth sciences professor of instruction Patricia Beddows likes to describe the progress of her own career in terms of the U.S. space program. In the early years of supersonic flight, she explains, technical expertise was what mattered, and former test pilots such as Chuck Yeager were the stars of the show. But over time, as more and more functions became automated, priorities shifted. Missions began to focus on scientific discovery, and NASA gradually altered its training to reflect that new reality. Rather than hire pilots to do research in space, the agency began training scientists to fly spaceships.
Beddows, 42, has made a similar transformation in her own career. When she first started studying the geology and hydrology of underwater caves, she worked with experienced divers who brought back observations and samples for her to study in a lab. But hearing about what was going on underwater rather than seeing it for herself ultimately became frustrating. "I decided I needed to put myself at the forefront," Beddows says, "and it had an enormous impact on my career."
Today, as an expertly trained cave diver, Beddows epitomizes the spirit of Northwestern's Department of Earth and Planetary Sciences. It was Beddows' mastery of both technical diving and basic science that led to the most high-profile project of her career: a place on the team that is studying one of the oldest, most complete skeletons ever discovered in the Americas. This spring the group published a report in the journal Science on its findings at a massive underwater cave on Mexico's Yucatán Peninsula known as Hoyo Negro, or "black hole." Beddows' study of crystal formations found there turned out to be a critical element in the team's conclusion that the remains date back at least 12,000 years.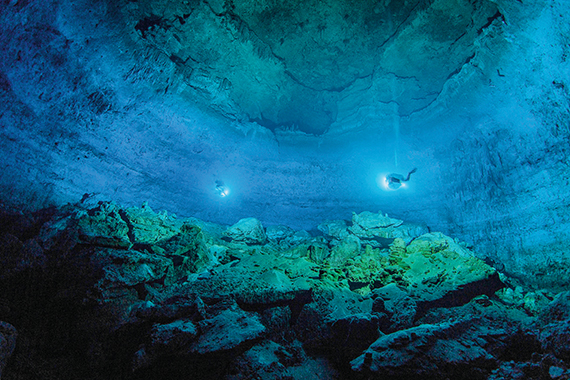 Divers use lights to illuminate Hoyo Negro, an underwater cave on Mexico's Yucatán Peninsula where the remains of a teenage girl who lived more than 12,000 years ago were found. Her skeleton and DNA are helping researchers learn more about the origins of the first Americans. Photo by AP Photo/Roberto Chavez Arce via Science.
"It's a very surreal experience," Beddows says of her visits to the eerily dark, nearly football field–size cave. "You're strapped into 100 pounds of equipment, carrying everything you need in double or triple quantities, because if something goes wrong down there, you've got nowhere else to go. You very quickly lose sight of everything, no matter how bright your lights are, and your instinctive reaction is to face the wall to compensate for the vastness. Luckily," — she smiles — "looking at the walls is part of my job."
North to South: From Canada to the Yucatán
Diving into a 200-foot-deep Mexican cave couldn't be more different from Beddows' own upbringing in the Canadian countryside. But she's always been up for adventure. Her parents ran a lakeside tourist camp outside Sudbury in the Northern Ontario region, about five hours north of Toronto, and she grew up roaming the property with her three brothers. "It was a very rich, outdoor-focused life," she says. "We had a 3½-story treehouse, and I was always digging tunnels or wandering the woods and swamps. In the summer I only wore shoes on Sundays."
As a physical geography major at McMaster University in Hamilton, Ontario, Beddows took a course with professor Derek Ford, an internationally recognized cave expert, that included a trip to Mammoth Cave in Kentucky. The visit confirmed that she'd found her specialty. "Studying caves brings together the interdisciplinary nature of this field," she says. "You're looking at geology, at water levels, the atmosphere, the energy dynamics. It's a way to study all the elements of Earth's rich history."
Beddows had spent a year in Mexico between high school and college, learning Spanish and falling in love with the country's culture and landscape, and she looked for a way to combine her two passions. In 2004 she earned her doctorate at the University of Bristol in England, with a dissertation on the hydrology of groundwater in the Yucatán Peninsula, an area she has returned to ever since.
"The Yucatán is a natural laboratory for understanding not only how caves form but also how changes in climate affect them," says Beddows. The peninsula is relatively flat and low lying, and its limestone bedrock is porous, meaning rainfall goes not into rivers or lakes but sinks into the ground. Over the centuries this constant flow created a huge network of underground rivers, caves and cenotes, or sinkholes. Beddows describes these formations as a "treasure chest of scientific data," and just like a real buried treasure, finding it sometimes takes extreme measures.
Naia: Hoyo Negro's Treasure
It was the search for water, Beddows and her fellow scientists believe, that led a young teenage girl, whom researchers named "Naia," to the Hoyo Negro cave thousands of years ago. Her skeleton was discovered in 2007 by three experienced Mexican cave divers who were exploring an unmapped tunnel system. Suddenly, the floor seemed to drop out from under them, and far down below they spotted enormous bones on the cave floor. They worked with the authorities for more than two years to build a science team led by Pilar Luna Erreguerena, Mexico's director of subaquatic archeology, to explore and study the site, which also contains the remains of extinct animals such as giant sloths, saber-toothed cats and a gomphothere, an elephant-like creature. The Hoyo Negro project was led by the Mexican government's National Institute of Anthropology and History and supported by the National Geographic Society.
"The goal was to slowly and carefully — with the greatest respect — build a team of the best possible people to study all the different elements involved," says Beddows. That meant putting together a dream team of experts in archeology, carbon dating, genetics and paleontology to study the bones, as well someone who could examine the clues in Naia's surroundings. That's where Beddows came in. "There aren't that many cave divers who are also research scientists," she says with a laugh.
Naia's bones were found at the bottom of a sharp dropoff, and Beddows and her fellow researchers believe the girl fell to her death. Over thousands of years the cave gradually became flooded, hiding the evidence of what had happened there but also preserving the bones in relatively good condition.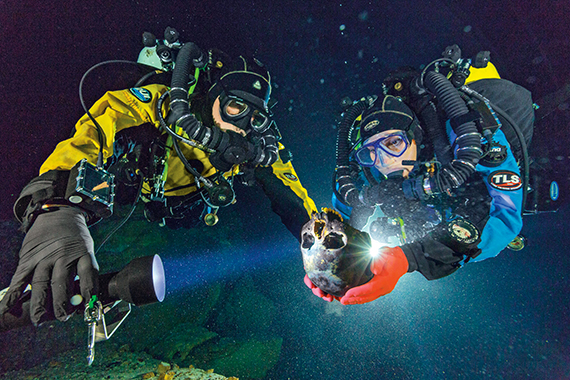 Divers Alberto Nava and Susan Bird transport the Hoyo Negro skull to an underwater turntable so that it can be photographed in order to create a 3-D model. Naia's facial features were consistent with the earliest inhabitants of the Americas — who migrated from Siberia — but her DNA also linked her to modern Native Americans, adding to the evidence of a common ancestry between the two populations. Photo by Paul Nicklen/National Geographic.
Crystal Clear: Beddows Dates Naia's Remains
One of the most important questions the researchers wanted to address was when Naia had lived, since the results would have huge implications for the study of human evolution.
"We were having problems effectively dating the human remains because no protein remained in the bones," says team leader James Chatters, a forensic archeologist and owner of Applied Paleoscience in Bothell, Wash. "We had to use the tooth enamel, which isn't the gold standard." That meant it was very important to gather other supporting evidence from the site. Beddows had already been called in to conduct a geological survey of the site; now she was asked to study a series of tiny crystals that had attached to the bones. "You have to understand not just the evidence of the site but also the chemistry of the site," says Beddows. Figuring out how and why those crystals developed — and comparing them to similar formations in the current water table — helped confirm the timeline.
"Trish is one of the best collaborators I've ever worked with," says Chatters. "We're both motivated by wanting to have that 'aha' moment — being out there in the field and figuring it out ourselves."
Brad Sageman, chair of Northwestern's Earth and planetary sciences department, knew Beddows would make a promising addition to the department when he interviewed her six years ago and found out she was a cave diver. "There aren't too many activities scarier than that!" he says. "But Trish doesn't pursue diving as an adventure seeker — she does it in order to pursue her scientific objectives. She has seemingly unlimited energy and an irrepressible drive for excellence." 
That energy is a necessity for anyone who juggles as many different responsibilities as Beddows does. One of the reasons she was eager to come to Northwestern, she says, was that her position as assistant chair of the department would allow her to do a variety of work at a high level. "I wanted to be responsible for building programs while still continuing my field research and having an active involvement in learning beyond the classroom," she says. For the coming year she will be the director of the environmental sciences program, mentoring nearly 100 students and overseeing and shaping the courses that make up the environmental sciences major.
Beddows also enjoys teaching and says she's been impressed by Northwestern's commitment to the classroom experience. "There's a thoughtfulness and commitment to supporting a high caliber of instruction," she says. Last year she led a freshman seminar titled "Voyages of Discovery," in which students read and wrote about famous expeditions. "I wanted to instill a sense of adventure and make them active participants in a scientific discovery," she says. One of the Earth sciences courses Beddows teaches, "Instrumentation and Field Methods," challenges students to solve an open-ended problem by building their own instruments from scratch. "The goal is to learn how to troubleshoot and think their way through a problem," she says. "It's what you have to do in the field: If your equipment doesn't work, you have to find a way to fix it."
That do-it-yourself spirit has come in handy in her personal life, too, as she and her husband, Edward Mallon, a scientific illustrator and fellow cave diver, fix up the 19th-century house they recently bought in Evanston. Over the past few years, Mallon has also been building prototypes of a new water-flow–measurement machine that will allow research teams to collect data from caves more affordably.
Interconnected: Air, Water, Rocks — and People
You can't be an Earth scientist without getting out into the world, and Beddows is eager to share her work and passions with a wider audience. Along with the rest of the Hoyo Negro team, she is working with a documentary film crew on a NOVA-National Geographic Television special that is scheduled to air in 2015 that will bring viewers down to the cave's vast depths. She regularly leads student trips to the Yucatán over spring break, and she hopes to offer a similar experience to alumni at some point in the future to share her knowledge of the Yucatán's geological history.
 "Earth sciences is all about the interconnections of the world's system — the air, water, rocks and us as well," explains Beddows. "Our dependence on fossil fuels is shifting the world's climate into new and unprecedented patterns. And the impact of our surface activities is altering water quality and availability globally.
"These significant issues excite me because they are challenging and often really hard to address. But by deciphering these interactions in the past and present, we can work toward supporting our future on Earth."