Giving Voice
Karen Emerson Thomson (G73) helps at-risk teenage girls and young mothers empower themselves through book groups and poetry writing.
---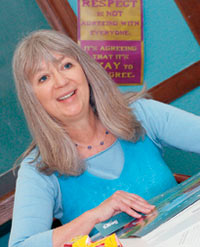 Photo by Jerry Lai (McC04)
Past the dumpsters and the metal detectors at the door of the Simpson Academy for Young Women in Chicago is a room full of 16 queens. They gather here every week to discuss literature and write poetry around a table adorned with luxurious purple cloth and a red candle.
"In every woman there is a queen," their regal voices proclaim in unison. "Speak to the queen, and the queen will answer." Then they introduce themselves, royal title first, of course. This is how Karen Emerson Thomson (G73) begins her book group for teenage mothers at the Chicago Public Schools' alternative high school for young women who are pregnant or parenting.
"We're building self-esteem and self-confidence here," Thomson says to the group, one of 10 weekly gatherings at the University Village school. She's executive director of Evanston-based Literature for All of Us, a nonprofit that uses literature to empower young women from low-income Chicago-area neighborhoods. Most of the 2,500 girls the organization has served are women of color. More than 90 percent are pregnant or parenting.
Thomson remembers the mental isolation of being a stay-at-home mom after earning her Northwestern degree. She "started to think again" through joining, then leading book groups for hundreds of adult women as well as teaching literature at a local community college.
"Books are food for my soul. They're how I inform my decisions, how I learn about life," says Thomson, the LFAOU founder who made book group leading her career. When a friend suggested she start a group for teen mothers, Thomson saw a great opportunity to bring the healing power of literature to those who deeply need it.
She was terrified when she stepped into a room of teen mothers for the first time nine years ago. But armed with Maya Angelou's poetry and genuine compassion, Thomson discovered "a beautiful, beautiful thing," a transformation. "I noticed their self-esteem and confidence went up when I asked them to write and read aloud their own poetry," she says. "They wrote the truth about their lives and realized how much strength they had."
When bookstores began asking the girls to give poetry readings, Thomson witnessed something that amazed her even more. "Reading their poems in public changed everything," she says. "At a difficult time in their lives, they learned that they had support, that they didn't have to be ashamed. And that has meant all the difference in the world to them."
Poetry writing is an essential part of LFAOU, which has grown from Thomson's independent project to a $500,000 operation with eight full-time staff members. The organization publishes annual anthologies of the girls' poems and holds benefits where the girls read their poetry.
Thomson's work is paying off. Nearly 80 percent of the girls that LFAOU has touched have become independent readers. Some have ended abusive relationships, gone to college or started their own book groups. When Thomson sees a room of girls "with their heads buried in books and writing for their lives," she thinks, "Oh, my God, this is a dream come true."
LFAOU has trained 94 educators to replicate the model nationwide and in Canada.Thomson hopes that spreading her work will combat the social stigma against teen mothers. "They just had things happen to them and didn't have all the guidance they needed," she says. "When you find out who they are, you can't see them as 'other' anymore. They're real, wonderful girls."
— Heidi Zhou (J07)
Passionate Words
Poetry from the 2004 Literature for All of Us anthology Things of Life
Revolution
My revolution will not happen
with your permission.
It will not happen
with me asking permission.
It will start in my mind and heart.
No announcement will be made
and no warning will be in sight.
Itís not gonna happen
with a frying pan in one hand
and a baby in the other.
— Leslie Hernandez
She is Beautiful
The woman I am in my dreams is powerful.
She is beautiful.
She is what every man desires.
She has goals and ambitions for herself.
She is very outgoing, kindhearted, and gentle.
She has never let anyone disrespect her and
she never will.
She is independent.
— Latanza Carter
---