Times Change, Friends Remain
Fall reunion plans include fellowship, fireworks and a September Sunday at Wrigley Field.
---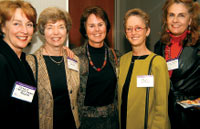 Photo by Franklin Habit
From a bash at Deering Meadow to a Cubs game at Wrigley Field, the Northwestern Alumni Association's Fall Reunions 2005 weekend Sept. 23-25 is packed with exciting events — but alumni don't have to wait until September to get in on the fun.
Members of the Classes of 1960, 1965, 1970, 1975, 1980, 1985, 1990, 1995 and 2000 — and those from other classes as well — can check out the reunion pages on the NAA web site, learn more about the weekend schedule and connect with classmates and friends.
Want to find out if your long-lost roommate still looks the same? The reunion web pages contain a scrapbook feature that lets class members post their favorite photos. Class members can also catch up and post announcements on the site's message boards.
In July reunion class members can register for preferred reunion events online, and in August they can view the list of classmates coming back to campus.
In the meantime, expect to hear from your class' reunion committees. Under the leadership of class reunion co-chairs, they've been scouring their Syllabus yearbooks while burning up the phone lines and searching the Internet to recruit as many classmates as possible to join the fun.
Debbie Brady (WCAS65), an NAA alumni regent in Seattle, is lead chair of the Class of 1965 reunion committee, working with her members to plan the 40th class party at Deering Library and seek out classmates through fraternity, sorority and club connections. In fact, committee members are going out of their way to locate alumni who have lost touch with the University. There's a friendly competition under way among the Class of 1965 committee members — the one who finds the most "lost" classmates wins a weekend at the Annabelle Inn in Aspen, Colo., courtesy of Dennis Chookaszian (McC65), a University trustee and committee co-chair.
"We really want to reach out to those who haven't been back in a long time so they can reconnect with friends and at the same time enjoy the energy on campus and discover all of the significant changes that have been taking place both at the University and in Evanston," says Brady.
Things might look a little different at Northwestern, but campus walking tours on the Friday of reunion weekend will help alumni get reacquainted with the University. For fun, alumni can also have their photo taken at the Rock.
Also on Friday, Wildcat football fans can meet coach Randy Walker and get the inside scoop on Saturday's game against Penn State at the Gridiron Network Football Luncheon at the newly renovated Hotel Orrington. Also at the Orrington, President Henry S. Bienen is scheduled to present "Critical Foreign Policy Issues Facing the Bush Administration," and alumni can attend the Alumni College Series' Classes without Quizzes educational presentations to learn about advances in a variety of academic fields.
Deering Meadow then becomes the center of reunion excitement and the site of the All-Class Reunion Tent Party, where alumni and family members of all ages can enjoy food, music and other lively entertainment. Students will join alumni for fireworks over Lake Michigan and a pep rally with Northwestern's Director of Athletics Mark Murphy, the NU Marching Band, cheerleaders and Willie the Wildcat.
Whether they've been away from campus five years or 45, returning alumni will have plenty of opportunities to take in the sights of Evanston and Chicago. Many Saturday night class parties will be held off campus, and Sunday's activities will be devoted entirely to Chicago fun. Sunday morning will start off with a gospel brunch at the House of Blues in downtown Chicago, then continues with a Chicago River architectural cruise and a Cubs game against the Houston Astros at Wrigley Field.
Visiting Wrigleyville's Friendly Confines and partying on the rooftop of the Rock Bottom Restaurant and Brewery in downtown Chicago are sure to attract recent alumni, says Margaret Korona (McC00), a client executive for Evanston-based Solucient and co-chair of her reunion class. Though she and many of her millennium classmates live in and around Chicago and keep in touch, she says their jobs often keep them too busy to get together in person.
Those from earlier classes may be considering reunion weekend in a more thoughtful way, says Alan Wolfson (McC80), 25th reunion chair and president-elect of the Northwestern Alumni Association. "The milestone periods — like our 25th reunion — often make us take a look at where we are personally and professionally, reflect on the ways our past experiences have shaped us and really appreciate the role Northwestern has played in our lives."
He says giving back to Northwestern will be a major focus of his class reunion committee. The Class of 1980 has issued a challenge to raise $1 million toward its reunion class gift, and the Class of 1970, headed by committee chair and University trustee Chris Combe (WCAS70), has set a $2 million gift goal.
For the complete 2005 reunion weekend schedule and more information, visit www.alumni.northwestern.edu/reunions/fall2005.
---