A Key to Life after Graduation
This year's senior class can stay connected to Northwestern with a handy portable link to the Northwestern Alumni Association.
---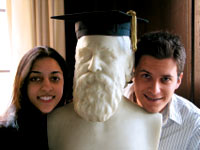 Photo by Franklin Habit
A Northwestern education isn't the only key to a successful life after graduation. The Northwestern Alumni Association is giving this year's grads the gift of access in the form of their own Answer Key — a customized USB flash key drive that plugs into the Northwestern alumni network via any computer with a USB port.
Distributed with the seniors' caps and gowns, the keys provide connections to 65 alumni clubs, contact information for thousands of alumni and Northwestern CareerNet volunteers and links to other practical resources such as an inside look at what alumni clubs in various cities have to offer and professional services their members provide.
Using flash memory, the portable drive is the latest trend in computer data storage and transfer. It's a finger-sized device that lets users move data at high speed from one computer to another.
Part virtual Rolodex, part how-to guide, part fashion accessory, the NAA Answer Key has a 128-megabyte storage capacity and can be attached to key chains or lanyards. It also includes instructions for obtaining Northwestern transcripts and forwarding e-mail, a list of volunteering opportunities at Northwestern and special offers from NAA partner companies for moving services, loan consolidation and credit cards. It will also allow recent graduates to save, transport and access files.
"This is a great way for seniors to carry their Northwestern connections with them wherever they go," says NAA president Rich Dean (EB69). "We want them to know that the NAA is a valuable resource they can count on throughout their lives."
And that's not all — graduates can also use their keys to link to Northwestern computer screen savers of campus scenery and audio of the Northwestern fight song and alma mater. When they're feeling nostalgic, they can "paint the Rock" by coloring images of the famous campus landmark on their computer screens or by printing a version to illustrate by hand. Those who might miss dining hall casseroles can find favorite recipes from the dorm dining rooms, and for refreshment, they can learn to make fruity purple smoothies and other purple drinks.
Northwestern Class Alliance leaders Leena Palamkunnel, a senior English major from Chicago, and Mike Schacht, a senior biomedical engineering major from Valparaiso, Ind., worked with the NAA professional staff to plan Senior Week activities and develop the content for the Answer Key.
"I'll use the Answer Key to carry important files to meetings, save files that I need to transfer or take files to work on at a coffee shop," says Schacht. "It's built to be mobile, and many of us will be mobile, too."
To prep seniors for life after graduation, the NAA and NCA hosted the Winter Etiquette Banquet at the Hotel Orrington in January. Then in February the NAA kicked off its Countdown to Commencement series that included a comedy performance by the Second City's National Touring Company and the stage production of Sweet Charity at Chicago's Cadillac Palace Theatre. Seniors also received advice on managing meals, money and vacations on a budget.
Palamkunnel, who plans to work in Chicago after graduation, says she appreciates the NAA's efforts to understand the needs of alumni.
"The community that the NAA has built is amazing — I really understood that after meeting alumni at Sweet Charity," Palamkunnel said. "Instead of just throwing graduates a logo, the NAA realizes that it can significantly contribute to the success of recent grads. I will definitely stay in contact with the NAA after I graduate."
For more information about alumni resources, visit www.alumni.northwestern.edu.
---