Features:
Times Change, Friends Remain
A Key to Life after Graduation
Club News:
Regional Clubs
National Clubs
School News:
Dental
Feinberg
Kellogg
Law
Travel Essay:
Cruising the Caribbean — and the Panama Canal
Close-ups:
Preserving Africa's Treasures
A Dissentful Life
Giving Voice

Dental
---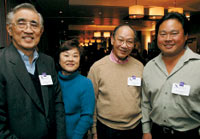 Photo by Jasper Chen (McC04)
For the fourth year the Northwestern University Dental School Alumni Association held its annual Midwinter Alumni Reception and Reunion in conjunction with the Chicago Dental Society Midwinter Meeting. This year's party, on Feb. 26 at the Hard Rock Hotel Chicago, honored members of the dental and hygiene classes of 1955, 1970 and 1995. The next Dental School alumni reception is planned for Oct. 7 in Philadelphia during the American Dental Association Annual Session. For more information contact Adrian Codel (D01) at nudsalumni@comcast.net.
Charles Maseredjian Jr. (D66) is organizing a 40th reunion celebration for the Dental School Class of 1966 in Chicago, April 21-22, 2006. For more information please contact Maseredjian at cgoldcrown@sbcglobal.net.
For the latest alumni news from the schools, visit www.alumni.northwestern.edu.
---