A Dissentful Life
Attorney Seymour Simon (WCAS35, L38, H87) has spent a lifetime in public service — as an Illinois Supreme Court justice, Chicago alderman and staunch opponent of the death penalty.
---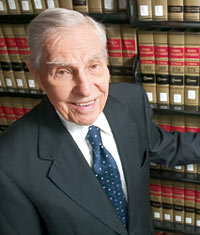 Photo by Kelvin Ma (J04, GJ05)
Seymour Simon (WCAS35, L38, H87) has had many proud moments in his nearly 70-year law career, but one stands out from the rest.
The former Illinois Supreme Court justice played a part in then-Gov. George Ryan's 2003 decision to commute the death sentences of all Illinois death row inmates. Simon sent the governor two letters outlining his opposition to the state's capital punishment framework, arguing that a system in which prosecuting attorneys independently determine whether to seek the death penalty could not be "evenly and uniformly applied." Ryan cited Simon's letters when he announced his decision to clear death row during a speech at the School of Law's Lincoln Hall.
"I believe that no prisoner ever should have been executed in the state of Illinois," says Simon.
Simon, who also served as a Chicago alderman and president of the Cook County Board of Commissioners, entered public service when he joined the antitrust division of the U.S. Department of Justice in 1938. He enlisted in the U.S. Navy in 1942, earning the Legion of Merit medal for his service in the Pacific.
After returning home Simon opened a private practice specializing in antitrust law. Born and raised in Chicago, Simon became 40th Ward alderman in 1955 in the largely Jewish and middle class Albany Park neighborhood in which he'd grown up.
Simon was elected to the Illinois appellate court in 1974. In 1980 he ran for the Illinois Supreme Court without the Democratic Party's support and won. "He brought total independence to the Illinois Supreme Court," said Dom Rizzi, a former justice on the Illinois appellate court who served with Simon. "He probably wrote more dissents than any other judge on [that court]."
Justice Simon spent 16 weeks of the year at the Supreme Court in Springfield, Ill., residing in chambers above the courthouse with the other six justices. More liberal than any of his colleagues, Simon was often at odds with them in the courtroom. Heated arguments sometimes found their way into the conference room, and Simon concedes that, "on occasion," books were thrown.
In addition to dissenting in every death penalty case, Simon sided against his colleagues in two notable Illinois decisions. In People v. Steven Smith the other justices upheld a guilty verdict in an armed robbery case despite the fact that police solicited a confession from the 18-year-old Smith after he requested a lawyer. The decision was later overturned by the U.S. Supreme Court.
Simon also dissented in 1983's People v. Payne, which permitted the exclusion of jurors on the basis of race. The U.S. Supreme Court later banned this practice.
"He was the Oliver Wendell Holmes of the Illinois Supreme Court, a 'great dissenter' whose passionate opinions eventually became established law," said Northwestern journalism professor David Protess.
Although in retrospect Simon said he enjoyed being "the lone dissenter on the Illinois Supreme Court," he retired in 1988 because "I was fighting too much."
At 89, Simon is now a partner in the downtown Chicago office of DLA Piper Rudnick Gray Cary.
Last year he received the Chicago Bar Foundation and Chicago Bar Association's Justice John Paul Stevens (L47, H77) Award. Today, a forest preserve in Cook County bears Simon's name. In 1982 Simon received a Northwestern Alumni Association Merit Award.
— Robert Brenner (J07)
---