FEATURES:
• You Can Go Home Again
• Alumni Connect with Students from the Start
• NAA Honors Outstanding Alumni
• All the President's Men and Women
• Rekindling Northwestern Spirit

CLUB NEWS:
• Regional Clubs
• Special-Interest Clubs

PROFESSIONAL SCHOOLS:
• Kellogg Graduate School of Management
• School of Law
• The Feinberg School of Medicine
CLOSE-UPS:
• Aid and Refuge
• The Sounds of Silence
• Serving San Francisco's Asian Community
• An Attorney with Perspective



Rekindling Northwestern Spirit
Spring reunions featured old and new traditions.
---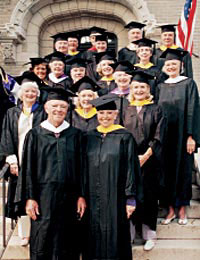 Tradition and innovation: This year's spring reunion weekend, June 21 through 23, offered both for the classes of 1942, 1946, 1947 and 1952.

In keeping with the Northwestern custom, members of the class of 1952 celebrated their 50th anniversary by donning caps and gowns and joining the class of 2002 for Commencement on Friday evening at Ryan Field.

Before the ceremony 50th reunion co-chairs Jerrie Kriegel Fowler (C52) and Ray Evans (SESP52) and their classmates got reacquainted at an outdoor luncheon on the grounds of the John Evans Alumni Center.

The following morning the reunion classes toured the Evanston campus and proceeded to the Norris University Center, where the class of 1952 was inducted into the Half Century Club. President Henry Bienen brought club members up to date on the state of the University, and School of Music dean Bernard Dobroski (GMu81) introduced members of his school, who provided musical entertainment.

A new event offered during the weekend was an educational seminar, What is the Good Life? The Impact of Religion, Wealth and Even Prozac, presented by Tod Chambers (G90), assistant professor in the medical ethics and humanities program at The Feinberg School of Medicine, and Cristina Traina, associate professor of religion at the Weinberg School. A Sunday afternoon Chicago architectural river cruise, led by Joan Lindsay (C52, G74), was another new offering.

Weekend highlights included the 50th reunion dinner at the Evanston Woman's Club and class brunch for the 55th and 60th classes at the Allen Center.