FEATURES:
• You Can Go Home Again
• Alumni Connect with Students from the Start
• NAA Honors Outstanding Alumni
• All the President's Men and Women
• Rekindling Northwestern Spirit

CLUB NEWS:
• Regional Clubs
• Special-Interest Clubs

PROFESSIONAL SCHOOLS:
• Kellogg Graduate School of Management
• School of Law
• The Feinberg School of Medicine
CLOSE-UPS:
• Aid and Refuge
• The Sounds of Silence
• Serving San Francisco's Asian Community
• An Attorney with Perspective


The Sounds of Silence
Salomé Krell, Amy Peterson and Kate VanDevender (all C99) bring mime to children and theater audiences in New York City.
---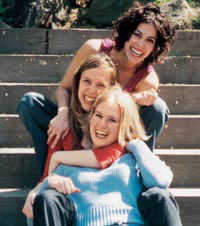 In the movie Tootsie, Dustin Hoffman, walking through Central Park, comes upon a mime doing a balancing act. Hoffman watches the mime for a few moments, then pushes him over.

Salomé Krell, Amy Peterson and Kate VanDevender know that such hostility may be people's first reaction to a mime, since many associate mime with pesky street entertainers who ensnare unwilling passersby in their hokey routines. "We're definitely part of a dead art form," VanDevender says with a laugh. But she, Krell and Peterson — all 1999 graduates of the School of Communication — are determined to help revive it.

In January 2001 the three women created the Open Door Mime Company, which has performed at several schools around Manhattan. "Children have such vibrant imaginations, and they're not asked to use them enough," Peterson says.

The women write all their own material, and it's not simplistic trapped-in-a-box bits. They portray everything from gum chewers engaged in a bubble-blowing contest to a zoo full of animals to the occupants of a haunted house. Other sketches depict favorite nursery rhymes, baby birds learning to fly and a mother caring for her daughter from birth to young adulthood.

Val Soderini, an assistant principal of Trinity School in New York, says Open Door's performance inspired the students. "Children went out to play afterward, and you could see them making up pantomimes," she says. "In this day and age, children are often in front of computers or the TV, where they're always hearing something. [With mime] children had to observe and draw their own conclusions."

Despite what VanDevender calls a "cultural backlash" against mime, the women have embraced this ancient art because, as Peterson says, it allows them to "explore the capabilities of the body and tell a story." Krell adds that "the ability to create beauty with a single pose, without wasting any movement" is both the challenge and reward of mime.

The three theater majors had no interest in mime when they entered Northwestern, says VanDevender, but Bud Beyer, chair of the theater department, introduced them to it. Beyer directed the women in a mime show in 1998. The rehearsal schedule was rigorous, but the experience stirred such enthusiasm that Beyer reactivated the Northwestern University Mime Company, which was launched in 1972 but had disbanded in the mid-1980s.

Beyer hopes his former students carry on the tradition but leave their own distinctive mark on the field. "They have a uniqueness of vision and a personal, insightful view," he says, noting that mime has been dominated by men who perform solo, making the Open Door members unusual on two counts.

In New York the women have performed in the brain surgery ward of Columbia Presbyterian Medical Center. Their appearances in a family theater festival last summer got the attention of the New York Times, and they've also done shows in Off-Off-Broadway theaters.

In addition to their mime work, all three are pursuing "traditional" acting careers. But mime offers experiences that a role in a play does not.

"There's a really intimate connection with the audience," notes Peterson, "and you have an immense capability to move people without sound."


–Adrienne Onofri (J85)


Adrienne Onofri is a freelance arts writer in New York City.