FEATURES:
• You Can Go Home Again
• Alumni Connect with Students from the Start
• NAA Honors Outstanding Alumni
• All the President's Men and Women
• Rekindling Northwestern Spirit

CLUB NEWS:
• Regional Clubs
• Special-Interest Clubs

PROFESSIONAL SCHOOLS:
• Kellogg Graduate School of Management
• School of Law
• The Feinberg School of Medicine
CLOSE-UPS:
• Aid and Refuge
• The Sounds of Silence
• Serving San Francisco's Asian Community
• An Attorney with Perspective


Serving San Francisco's Asian Community
Kelvin Quan (WCAS79)
has followed his family's tradition by helping Asians and Asian Americans meet their health needs.
---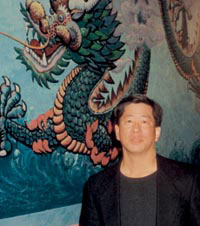 When Kelvin Quan (WCAS79) was growing up in San Francisco's Chinatown, on most afternoons his grandfather would pick him up after school for the walk home.

"We would pass by his associates and other community leaders, and they would stop and chat," Quan says. "I was always impressed with the respect he inspired."

His family's tradition of public service has led Quan to pursue his own initiatives, which have had a major impact on Asian American communities, especially in the area of health care.

Since 1996 Quan has been president and director of the Asian and Pacific Islander American Health Forum. It was a prime mover behind the 1999 creation of a White House commission ensuring that federal agencies adequately address the needs of the country's 10.2 million Asian immigrants and Asian Americans.

Quan's knowledge of the issues surrounding his community was nurtured during his time at Northwestern, where he took the opportunity to explore his heritage. He majored in history and economics, enrolling in every course he could on Asia, including Taoism, Japanese literature, karate and Mandarin Chinese. "Anything remotely Asian, I took."

His uncle, who was a cardiologist at San Francisco's Chinese Hospital (co-founded by Quan's grandfather in 1925), initially encouraged the young man to study medicine, but the plan was a non-starter. "I took chemistry my freshman year and bombed out," Quan says, laughing. "I came home [for vacation] and told my mom, 'Sorry, but you're not going to have a son who's a doctor.' "

Instead, Quan attended law school and studied health care administration at the graduate level. Today, he spends most of his professional time as chief financial officer and general counsel to the Alameda Alliance for Health, a managed health care plan primarily serving low-income, underserved communities.

He's also active with a variety of programs and initiatives that foster communication between health care providers and patients. "If your grandmother doesn't speak English, there's going to be a tremendous problem if her doctor doesn't know her language," explains Quan. "If an untrained family member or friend is used to interpret, quality care and patient confidentiality may be compromised."

However, true health care communication goes even deeper than that. Quan points out that Western physicians may think strictly in biological terms, but many Asians see the issues holistically. To bridge this gap, he and others have urged physicians to better understand their patients' cultural views and sometimes to work with traditional healers, such as shamans and herbalists.

As an example, Quan serves as an investigator in a research study exploring how ethnic and language matches between doctors and patients for cervical cancer screening could affect the rate of cervical cancer. The answer to this question may help reveal why the incidence of this cancer is five times higher among Vietnamese women than the general population.

Like many Asians and Asian Americans, Quan views history as cyclical. "When I speak to the elderly, I think back to my own grandparents," he says. "This is my grandfather, my grandmother I'm helping.

"We must remember that we've all been blessed with education and supportive families who allowed us to get where we are," Quan adds. "In a historical context, it's all part of our heritage that made this possible."