FEATURES:
• You Can Go Home Again
• Alumni Connect with Students from the Start
• NAA Honors Outstanding Alumni
• All the President's Men and Women
• Rekindling Northwestern Spirit

CLUB NEWS:
• Regional Clubs
• Special-Interest Clubs

PROFESSIONAL SCHOOLS:
• Kellogg Graduate School of Management
• School of Law
• The Feinberg School of Medicine
CLOSE-UPS:
• Aid and Refuge
• The Sounds of Silence
• Serving San Francisco's Asian Community
• An Attorney with Perspective



Aid and Refuge
Michael McCormick (McC82)
is a committed legal advocate for the American Refugee Committee and travels around the globe on its behalf.
---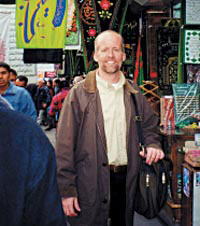 After the U.S. strikes on the Taliban, the already ravaged Afghan countryside was, if anything, even more devastated by war, disease and poverty.

So when the American Refugee Committee tapped Michael McCormick (McC82) to go there in February, he deeply pondered the offer — for about 10 seconds.

"That part of the world has been at war for 20 years," says McCormick, a corporate attorney and partner with Minneapolis-based Faegre & Benson and, since 1993, ARC's pro bono legal counsel. "That's the entire adult lifetime for many of the people there."

Sadly, that is indeed true. Afghanistan's health system has collapsed or been destroyed, so ARC decided to focus on establishing health clinics for refugees and combating tuberculosis, which is epidemic in the country.

ARC is a 24-year-old nonprofit organization based in Minneapolis that provides refugees humanitarian services to restore their health and rebuild their productive lives, assistance that includes health care and training, water and sanitation services, small business support and legal help. McCormick directs a team of lawyers at his firm who do ARC work and has traveled to such hot spots as Bosnia, Uganda and Rwanda.

In Afghanistan McCormick helped direct his team's fact-finding and negotiations to set up ARC's relief programs.

ARC tailors its work to the specific needs of each country. In the Balkans, for instance, a major need existed for legal help. "The problems there are less related to malnutrition and disease," McCormick says. "Take Bosnia. After the peace accord, ethnic cleansing moved from the battlefields to the administrative offices, police departments and courts. Refugees were blocked from going home by the problems of reclaiming their houses, receiving their pensions or getting jobs in areas where they weren't welcome due to ethnic discrimination." So McCormick helped ARC set up free walk-in legal clinics in Bosnia.

Patience in this line of work is a necessity. Last November McCormick negotiated in Tehran to allow ARC to enter Iran to assist Afghan refugees. The Iranian government showed signs of cooperating, but the project has been on hold following U.S. legal sanctions on activities in Iran that raised special legal issues for ARC's work there.

"It's a fact-finding, negotiating, diplomatic ballet," McCormick says. "I meet with the host governments, UN agencies, donors, other private organizations and the refugees themselves to match ARC's best capabilities with refugees' urgent needs, laying the groundwork for long-term, durable solutions."

ARC enjoys some successes. In Afghanistan the organization is teaming with other nonprofits and Land o' Lakes, the Minnesota-based food processor, in a multi-pronged attack on poverty. ARC is helping to set up health clinics, while Land o' Lakes will provide agricultural advice to farmers.

Despite the challenges he confronts, McCormick maintains a high level of passion for the cause. "Balancing ARC work with my corporate law practice sometimes feels like I'm trying to fit 10 pounds of sand into a five-pound bag," he says. "But I talked to kids on the streets in Kabul. They've endured unspeakable suffering, but they smile at you. That sticks with me. Of the broad variety of work I do as an attorney, helping ARC is the most gratifying."