FEATURES:
• In a Juggler Vein
• Making an Impact
• Living La Vida Tica
• Anatomy Lessons Learned



In a Juggler Vein
David Rippe (FSM02)
uses some fast handiwork to ease the pressures of medical school and bring some fun into people's lives.
---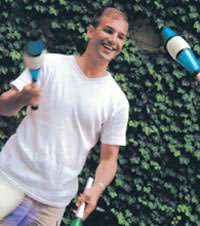 For David Rippe (FSM02), juggling the pressures of his medical training with his life isn't always easy. Yet when it comes to juggling knives and flaming torches, now, that's a breeze.

As the former co-president of NUMS Jugulars, the "official" juggling club at The Feinberg School of Medicine, Rippe, from Eden Prairie, Minn., has become a specialist who can manage anything from beanbags to, well, flaming torches.

"I kind of knew how to juggle before — just three balls — but I wanted to learn more," Rippe explains. So when he heard about the juggling club during his first year in medical school, he jumped at the chance.

Weekly practices with the group paid off. Rippe now juggles five balls instead of three and learned to handle three clubs during fall quarter of his first year. That winter quarter saw him mastering the art of passing clubs and balls back and forth. Springtime brought on the big challenge — juggling torches and knives (he can now manage three at a time).

"After somebody learns to juggle clubs, the hardest part about juggling knives is getting past the fear of hurting yourself," says Rippe. He remembers feeling "pretty pumped" after juggling knives for the first time. Yet when he told his parents and girlfriend (whom he married in May), for some reason, they weren't quite as enthusiastic. So far, nobody's been hurt except for some very minor cuts on people's hands and a little scorched-off hair.

To be sure, Rippe and the other 25 or so club members don't stop at mere juggling. They have learned to perform on stilts and on "rola bolas," which are cylinders that they balance on while juggling. And somewhere along the way, the group also picked up that can't-miss crowd pleaser, making balloon animals.

"Dave is indeed a highly skilled juggler," says Jack Snarr (FSM67), associate dean of student affairs, associate professor of physiology and one of the founders of the juggling club. "When he was starting out, there were some things I could teach him. Now it's the other way around."

Rippe, who started a one-year residency at Northwestern Memorial Hospital in June, will devote three years after that at the Rehabilitation Institute of Chicago to specialize in physical medicine and rehabilitation. Not surprisingly, he is drawn to that branch of medicine partly because it requires so much patient interaction.

Even during his residency, a busy time in any young doctor's life, Rippe sometimes takes 15-minute juggling recesses in his room for a recharge, but of course, no matter how much he loves to juggle, there are occasions when his duties must take precedence. "Some weeks I don't practice at all, and other times I'm able to practice between 30 to 60 minutes a day," he says.

In 1999 Rippe conceived the idea of public performances in such venues as the Rehabilitation Institute, shelters for battered women and Chicago's Northside Ronald McDonald House (which serves Children's Memorial Hospital).

Most of the time, Rippe and his fellow jugglers will do about a half-hour juggling show, then split up to make balloons or teach the audience how to juggle using safe and easy items like scarves and peacock feathers.

"Dave has been the key organizer and producer of these events," says Snarr. "His dedication is what attracts others to join."

Rippe is always trying to figure out new tricks to add to the group's repertoire. When he sees impressive moves done by others or in some of his juggling books, he immediately wants to master them himself — he can't resist a challenge. "No matter how much you learn, there's always something else out there," Rippe says.

But challenges aside, he and his juggling cohorts are always aware of their ultimate goal —entertaining kids and adults who in most cases can definitely use some cheering up.

"It's a good break from studying and work, but what I like best is when we go into the shows," says Rippe. "It's fun for them and for us.

"In that sense, juggling is sort of like medicine."