FEATURES:
• You Can Go Home Again
• Alumni Connect with Students from the Start
• NAA Honors Outstanding Alumni
• All the President's Men and Women
• Rekindling Northwestern Spirit

CLUB NEWS:
• Regional Clubs
• Special-Interest Clubs

PROFESSIONAL SCHOOLS:
• Kellogg Graduate School of Management
• School of Law
• The Feinberg School of Medicine
CLOSE-UPS:
• Aid and Refuge
• The Sounds of Silence
• Serving San Francisco's Asian Community
• An Attorney with Perspective



Kellogg School of Management
---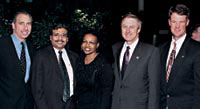 Photo by Nathan Mandell

Kellogg alumni from the classes of 1942, 1952, 1962, 1972, 1977, 1982, 1987, 1992, 1997 and 2001 "came home" for the school's annual reunion weekend May 3 through 5. In addition to participating in a career seminar, alumni mingled at the weekend's Welcome Back Party, Special K Show, a barbecue and a gala dinner.

Jim Corboy (KSM94) also came home to Kellogg as its new director of alumni relations. He is a former marketing executive with Coca-Cola Co., VH1/MTV Networks, Tribune Entertainment, WMAQ-TV in Chicago and TerraLycos Networks in Waltham, Mass. He replaces Megan Byrne Krueger (KSM90), who is now assistant dean and director of student affairs for the Management Program on the Chicago campus.

Members of the Kellogg Alumni Club of Chicago have been staying connected to the school through a number of career seminars and social events. In April they viewed the Science of SuperCroc, an exhibit at the Museum of Science and Industry, and met the 110-million-year-old crocodile (the world's largest), which was capable of eating dinosaurs.

Alumni also took part in Kellogg's Innovating Social Change Conference last May, sponsored by the school's Social Impact Club. The event explored the intersection of business principles with public and nonprofit practice and featured keynote addresses from Michael Crooke, CEO of Patagonia, and Alan Bersin, superintendent of the San Diego school system.