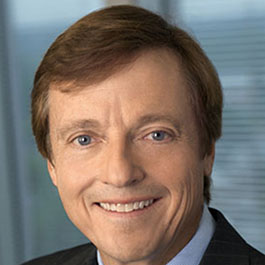 Tom O'Flynn
Venture Partner, Energy Impact Partners; Board Director, TransAlta; Lead Operating Director, Dimension Energy (a Partners Group Co.)
CO-TEACHES:
ISEN 440 Energy Project Finance and Development (1.0 credit)

Thomas O'Flynn is a member of the Trienens Institute's Executive Council and an adjunct instructor within Northwestern's Master of Science in Energy and Sustainability (MSES) Program.
Before moving to EIP, Mr. O'Flynn was CEO of AES Infrastructure Advisors (2019-2021), and Executive Vice President and Chief Financial Officer of AES Corporation (2012-2019).  Previously, Mr. O'Flynn served as Senior Advisor to the Private Equity Group of Blackstone, an investment and advisory group and held this position from 2010 to 2012. During this period, Mr. O'Flynn also served as Chief Operating Officer and Chief Financial Officer of Transmission Developers, Inc. (TDI), a Blackstone-controlled company that develops innovative power transmission projects in an environmentally responsible manner. From 2001 to 2009, he served as the Chief Financial Officer of PSEG, a New Jersey-based merchant power and utility company. He also served as President of PSEG Energy Holdings from 2007 to 2009. From 1986 to 2001, Mr. O'Flynn was in the Global Power and Utility Group of Morgan Stanley. He served as a Managing Director for his last five years and as Head of the North American Power Group from 2000 to 2001. He was responsible for senior client relationships and led a number of large merger, financing, restructuring and advisory transactions. Mr. O'Flynn serves as a member of the Boards of AES Gener, AES Solar, DPL and DP&L. He is also currently on the Board of Directors of the New Jersey Performing Arts Center. Mr. O'Flynn has a BA in Economics from Northwestern University and an MBA in Finance from the University of Chicago.