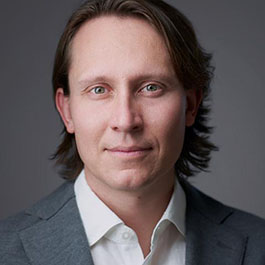 Tom Biegala
Founding Partner at Bison Ventures
TEACHES:
ISEN 454 Financing the Energy Transition (0.5 credit)

Tom Biegala is an adjunct professor within Northwestern's Master of Science in Energy and Sustainability (MSES) Program.
He is a Founding Partner at Bison Ventures, an early-stage venture capital firm focused on investing in frontier technology companies that create a healthier person and healthier planet.
Tom has been working in frontier technology and sustainability as an investor and engineering for nearly 20 years. His passion for the space started with early research on cutting edge OLED and photovoltaic technologies as an engineering student at Cornell University. Since then, Tom has been in involved in all phases of a company's life cycle from newco formation and early R&D through to scale-up and IPO.
Prior to founding Bison Ventures, Tom was part of a team of investment professionals managing the personal venture capital investments of Bill Gates at Cascade Asset Management Company. Tom was the first venture capital investment professional dedicated to this work at Cascade and throughout his time has been involved in category-creating sustainability companies.
Tom started his career at Intel Corporation as a manufacturing engineering, which was followed by work developing next generation solar photovoltaic technologies at two university spin-outs. While completing his MBA, Tom transitioned from engineering to venture capital investing at Altira Group, an energy technology focused venture capital firm in Denver, Colorado.
Tom received a B.S. in Materials Science and Engineering from Cornell University and an MBA from Northwestern University's Kellogg School of Management.