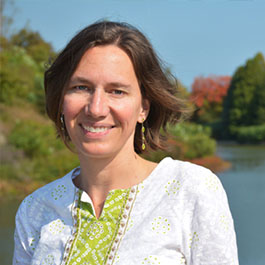 Nyree Zerega
Instructor & Director of the Graduate Program in Plant Biology & Conservation at Northwestern University
ADVISES:
ISEN 471 Sustainable Food (0.5 credit)

Nyree Zerega is an adviser for Northwestern's Master of Science in Energy and Sustainability (MSES) Program.
She is a professor of instruction and director of the Graduate Program in Plant Biology and Conservation, a collaboration between Northwestern and the Chicago Botanic Garden. Her lab explores the evolution, genetic diversity, origins and pollination biology of plants. 
Her research uses phylogenomic, collections-based, and experimental field approaches to explore the evolution and genetic diversity of underutilized crops and their wild relatives, pollination, biogeography, and taxonomic revisionary work. She is also interested in applying findings to conservation of plant genomic resources and more sustainable agriculture.