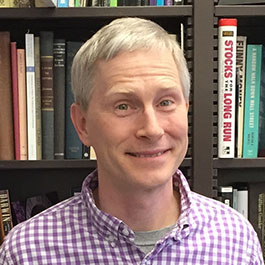 Mark Witte
Director of Undergraduate Studies and Professor of Instruction in Economics at Northwestern University
Kellogg Global Hub Room 3393
2211 Campus Drive
United States
TEACHES:
ISEN 403 Energy, Water and Transportation System Economics (1.0 credit)

Mark Witte is an adjunct professor for Northwestern's Master of Science in Energy and Sustainability (MSES) Program.
Mark's research deals with applied questions in macroeconomics and public finance. His main interests are in consumption theory and topics in taxation. His teaching interests include macroeconomics, money and banking, public finance, and the economics of the environment and the extraction of natural resources. He has been voted onto the Associated Student Government honor roll numerous times in recognition of both his teaching and student advising. He has been honored with a Weinberg College of Arts and Sciences (WCAS) Distinguished Teaching Award, and a WCAS Distinguished Leader in the Undergraduate Community Award.