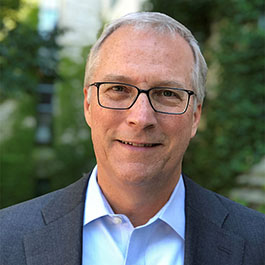 Mark Lillie
Former Chief Counsel at the Federal Highway Administration; Former Partner with Kirkland & Ellis LLP
TEACHES:
ISEN 401 History and Politics of Resource Innovation (1.0 credit)
ISEN 452 Government Incentives (0.5 credit)

Mark Lillie is an adjunct professor within Northwestern's Master of Science in Energy and Sustainability (MSES) Program.
He was appointed Chief Counsel of the Federal Highway Administration on January 8, 2018 and served through November, 2019. As FHWA's head legal officer, he advised the Administrator and other agency leadership on the full portfolio of matters that arise within this operating mode of the U. S. Department of Transportation. The Chief Counsel is responsible for a team of over 50 lawyers and other professionals who provide advice on grant administration, legislation, appropriations, regulatory affairs, environmental compliance, and all related litigation. Mr. Lillie also served as FHWA's principal liaison with the DOT's Office of General Counsel.
Prior to joining federal service with FHWA, Mr. Lillie was a senior partner at Kirkland & Ellis LLP in Chicago, where he regularly represented clients such as ExxonMobil, BP, Dow Chemical, General Motors, and 3M in a wide variety of commercial and environmental matters throughout the United States for over 30 years.
Mr. Lillie graduated from Northwestern University in 1981 with a degree in environmental engineering and earned his law degree from the University of Denver in 1984. He is active in the Northwestern University Leadership Council, and serves on various non-profit boards and professional committees.