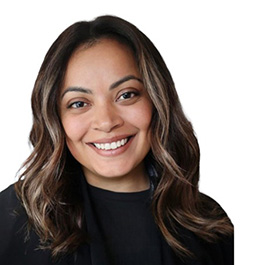 Kathia Benitez
MSES Career Coach; Director, Sustainability, Compliance, Health & Safety at Discover Financial Services

Kathia Benitez is a career coach for Northwestern's Master of Science in Energy and Sustainability (MSES) Program.
Formerly, she was a Regional Director for Franklin Energy's central region operations, where she led portfolio administration for several large utilities in the Midwest including Canada. She also provided subject matter expertise to the region's commercial and industrial utility energy efficiency programs.
Previously, Kathia was the sustainability director at Northwestern University. She was instrumental in leading the development and implementation of the University's first five-year Strategic Sustainability Plan (2017-2021). She led sustainNU, an inclusive and comprehensive University-wide program that aims to engage students, faculty, and staff in reducing and eventually eliminating Northwestern's contribution to climate change. She administered sustainability and energy efficiency programs and projects in collaboration with students, faculty, and staff. She was instrumental in leading the institution to win consecutively Partner of Year in Energy Management from the Environmental Protection Agency's ENERGY STAR program.
Kathia also served the Illinois Green Alliance in several capacities, from Board of Director, Board Chair, and supporting the organizations' goal of incorporating carbon drawdown strategies and solutions to every community in the Greater Chicago Area. Also, Kathia Co-Chaired the Boards Diversity and Inclusion Committee providing guidance and alignment accountability. Additionally, Kathia served as Vice-Chair to the Mujeres de HACE - Hispanic Alliance for Career Enhancement Auxiliary Board of Directors, supporting the program's professional development, fundraising, and mentoring efforts. Kathia was recognized as a top-performing leader by Negocios Now Latinos 40 under 40 in the Chicago Metroland Area.
Before working for Northwestern University, Kathia was the senior manager supporting the U.S. Department of Energy's (DOE) Better Buildings Initiative in the D.C. Metro Area. In her role, she provided direct oversight and strategic guidance for the DOE's Better Buildings Alliance and Better Building Challenge initiatives. She also served as a subject matter expert for healthcare organizations. Previously, Kathia served as the Corporate Energy Program Manager for New York-Presbyterian Hospital, where she managed a $60 million annual utility budget for a 12-million square foot building portfolio. Under her leadership, New York-Presbyterian Hospital won several U.S. Environmental Protection Agency ENERGY STAR Awards for Sustained Excellence in Energy Management and Climate Communications. The hospital earned additional recognition from the American Society for Healthcare Engineering's Energy to Care program, the Department of Energy Better Buildings Challenge, and Practice Greenhealth.
Kathia is a Certified Energy Manager, Certified Energy Procurement and Certified Demand Side Management Professional, and a Leadership in Energy and Environmental Design Green Associate. She has a master's degree in behavioral health from Nyack College and a Master of Science in Energy Management from the New York Institute of Technology. Kathia completed an Executive Education for Sustainability Leadership program through Harvard University's T.H. Chan School of Public Health.