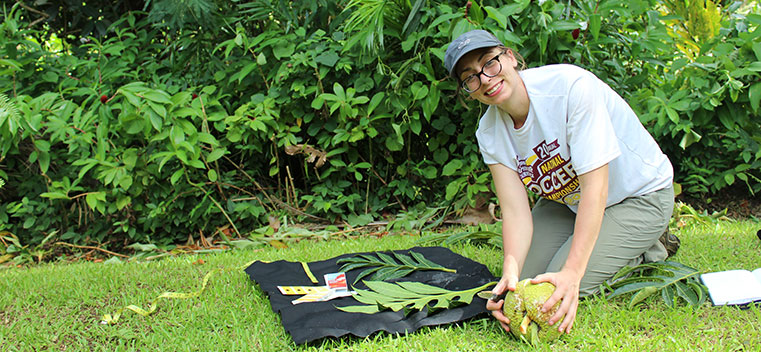 Luaren Audi collects morphological data.
Banking on Breadfruit
Story Tools
Share this story
Tell us what you think of the magazine in a short online survey by Jan. 31, and you'll be entered to win an iPad.
E-mail comments or questions to the editors at letters@northwestern.edu.
Find Us on Social Media
Graduate student Lauren Audi explores genetic history of breadfruit in the Caribbean.
The world's ever-expanding population relies on approximately 1 percent of potential food crops for 90 percent of our global diet. Sixty percent of all of global food needs are met by wheat, rice and corn — annual crops that require large inputs of energy, such as fertilizer and irrigation. Lauren Audi thinks breadfruit might be one sustainable alternative.
In August, she spent two and a half weeks on St. Vincent and the Grenadines for her study of the genetic history of breadfruit in the Caribbean.
Seedless breadfruit was first introduced in the region by Lt. William Bligh, who survived the mutiny on the HMS Bounty and eventually completed his mission to bring the tropical tree from Tahiti to St. Vincent in the West Indies. The St. Vincent Botanical Garden, the oldest botanic garden in the Western Hemisphere, has records of the introduction.
Audi, a second-year master's degree student in the plant biology and conservation program, and her adviser, Nyree Zerega, director of the Northwestern and Chicago Botanic Garden–administered graduate program, collected genetic and cultural information on breadfruit cultivars in St. Vincent. The DNA analysis will confirm the number of varieties in St. Vincent (Bligh is thought to have brought five; now researchers recognize more than 25), and comparisons with a global dataset of breadfruit will reveal if any varieties are unique to the island.
The second piece of Audi's research addresses food security. The starchy fruit grows in abundance. It doesn't have a long shelf life, but it can be turned into flour. Audi received a Resnick Family Social Impact Fellowship from the Institute for Sustainability and Energy at Northwestern for her work to increase food security and economic opportunities on St. Vincent. ISEN and the Illinois-based Trees that Feed Foundation sponsored a factory-in-a-box initiative that provided a farmer's organization in partnership with the St. Vincent Ministry of Agriculture with equipment to process breadfruit into flour.
"It seems like it would be inappropriate to not ask how this plant could help to increase the livelihood and development of the communities in the countries where it is grown," says Audi. "This is one small piece of the much larger movement that uses genetic conservation as a means of food security."