Supporting Sustainability
Story Tools
Share this story
Related Articles
Tell us what you think of the magazine in a short online survey by Jan. 31, and you'll be entered to win an iPad.
E-mail comments or questions to the editors at letters@northwestern.edu.
Find Us on Social Media
Donor gifts to Northwestern are helping advance research on clean energy and climate science that will help better the world.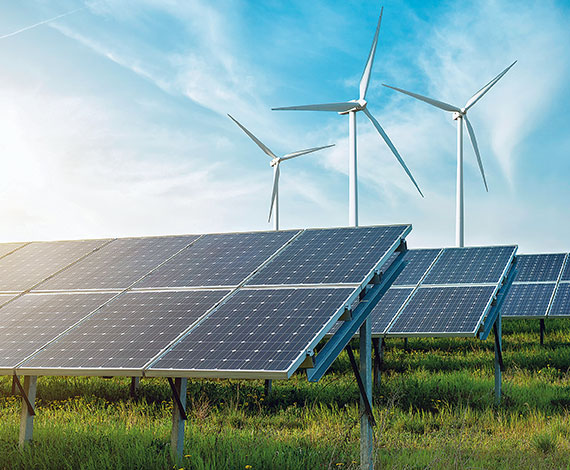 Finding solutions to sustainability and energy issues is a global concern. As the planet's population grows and off-the-grid areas of the developing world come online, energy requirements will skyrocket. The U.S. Energy Information Administration reports that worldwide energy demand is expected to increase by 28 percent by 2040. It is imperative that researchers develop cleaner, more efficient technologies for carbon-based fuels as well as more renewable energy sources in an effort to prevent worsening climate change.
"We need to provide a huge segment of the world's population with clean energy that does not jeopardize the environment," says Michael Wasielewski, executive director of the Institute for Sustainability and Energy at Northwestern. "Coupling clean energy production with sustainable methodologies is critical for the future of humanity."
Northwestern expects to have a significant impact in the areas of sustainability and energy in the coming years. The University identified these two fields as among its greatest areas of strength in its 2011 strategic plan, making them a priority of We Will. The Campaign for Northwestern.
These philanthropic efforts are solidifying Northwestern's position among the world's leading research universities by supporting ISEN's faculty and students as they advance global sustainability and energy solutions through transformational research, interdisciplinary education and public engagement. 
ISEN's newest initiative is the Ubben Program for Climate and Carbon Science, which focuses on studying climate system dynamics and developing solutions for climate adaptation and mitigation. Announced in April 2017, the program is made possible by a generous gift from Northwestern Trustee Jeff Ubben '87 MBA and his wife, Laurie Ubben, to improve understanding of global climate system dynamics and evaluate low- and zero-carbon alternatives to fossil fuels. 
"The institute is busy at work finding less energy-intensive solutions to societal needs, with an increased sense of urgency," says Jeff Ubben, who is CEO, chief investment officer and founder of ValueAct Capital, a San Francisco-based private money management firm. 
The Ubbens' gift has been a powerful impetus for additional research activities in carbon and climate science, which are key directions within ISEN. The program seeks to increase understanding of these critical issues and provide novel solutions to benefit society.
"There is no higher purpose than the health of and respect for the planet," says Laurie Ubben, co-founder of the Bird School of Music in San Francisco and producer of the film Loving Vincent. She also serves on the board and national advisory committee of Youth Speaks.
Postdoctoral fellows and graduate students receive support via the Ubben Program to focus on climate science, climate modeling and carbon science. Projects range from research into using carbon dioxide as a fuel to studying the economics of carbon. 
"The unique aspect of the program is that students collaborate with faculty and students from economics, public policy, political science, law and business," says Wasielewski, who is also the Clare Hamilton Hall Professor of Chemistry. 
This interdisciplinary approach streamlines the process for putting new discoveries to use. "We want other disciplines to participate in these projects right at their inception so that the best solutions for translating results to benefit society can be brainstormed and implemented as quickly as possible," he says.
Philanthropy has supported a number of other sustainability and energy initiatives associated with ISEN, including the Wanxiang Fellows Program, which allows students to study renewable energy in the United States and China while gaining exposure to Chinese language and culture. The program is presented by Northwestern's Office of International Relations, in partnership with Wanxiang Corp., Hangzhou Wanxiang Polytechnic and Peking University. Approximately 12 students participate each summer; 78 fellows have completed the program since its inception in 2012.
Wanxiang fellows are introduced to renewable energy topics during spring quarter via lectures and a visit to Wanxiang America Corp.'s solar panel manufacturing facility in Elgin, Ill. They begin their summer abroad experience with four weeks at Peking University in Beijing and excursions to historic sites. They then take a two-week intensive program at Hangzhou Wanxiang Polytechnic, exploring issues of energy technology and application. Group projects are presented when they return to Northwestern in the fall quarter.
Another University initiative of global relevance powered by philanthropic gifts is "Finite Earth." Finite Earth projects involve mapping and exploring the complex networks of Earth's resources and the technologies, infrastructures, policies and strategies needed to sustainably support an increasingly urbanized planet that will soon be home to 10 billion people.
After making initial gifts to create the John and Leslie McQuown Fund for Research and Training on Complex Systems at Northwestern's McCormick School of Engineering, John "Mac" McQuown '57 and his wife, Leslie McQuown, made a new gift to establish the John and Leslie McQuown Fund for Finite Earth in support of an additional area of research within Complex Systems.
"We're not going to solve the climate problem without a major shift in technology," McQuown says. "If you stop and think about it, there is no major firm in the world today that doesn't depend upon fossil fuels. That means all of those production functions have to be replaced in the next couple of decades."
Seeking a solution to climate change is a major priority for the McQuowns, whose Stone Edge Farm outside of Sonoma, Calif., follows organic and sustainability practices, enhanced by technology. The farm uses two self-sustaining products, electricity and hydrogen, to create a revolutionary microgrid system that routes energy efficiently in an effort to reduce its carbon footprint as much as possible.
James A. DeNaut '84 and his wife, Anne S. DeNaut, also have made a significant gift to ISEN. DeNaut, a Northwestern trustee and member of ISEN's executive council, has spent the majority of his career covering energy companies and financing energy projects around the world as a financier at Goldman Sachs, Morgan Stanley, Deutsche Bank and Nomura Securities, his current employer. The DeNauts' gift to ISEN established the James A. and Anne S. DeNaut Gift Fund to support the institute's most pressing needs.
Generous gifts from donors have enabled a substantial push forward in momentum for energy and sustainability research at Northwestern, but there is still a long way to go, Wasielewski says.
"We have significant intellectual resources at the University that are focused on these issues," he notes. "They're resources that could easily push this institution to the global forefront of research on energy and sustainability."