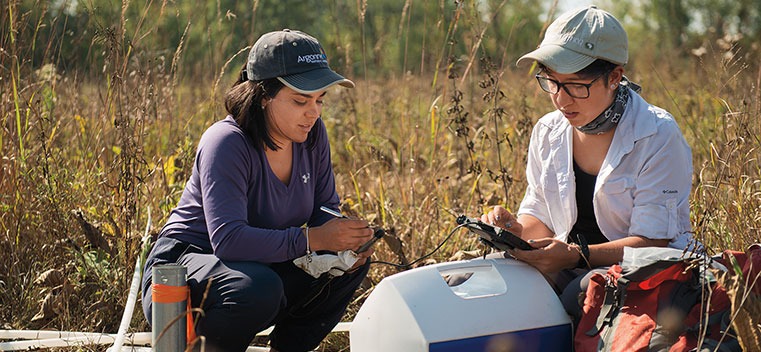 Liliana Hernandez Gonzalez, left, and Vivien Rivera download soil moisture data at the Gensburg-Markham Prairie in southern Cook County. Photo by Alex Garcia.
Sustainable Solutions
Story Tools
Share this story
To read more, check out ISEN's semiannual Empower magazine, which informs and inspires dialogue around current issues in sustainability and energy at Northwestern and beyond.
Sean Hargadon is senior editor of Northwestern magazine.
Tell us what you think of the magazine in a short
online survey
by Jan. 31, and you'll be entered to win an iPad.
E-mail comments or questions to the editors at letters@northwestern.edu.
Find Us on Social Media
The Institute for Sustainability and Energy at Northwestern brings together partners from across campus and around the globe to answer the climate challenge.
Liliana Hernandez Gonzalez and Vivien Rivera stand beside a bone-dry drainage ditch in the "wet" part of the Gensburg-Markham Prairie. The environmental engineering doctoral students have come to the 105-acre tallgrass prairie in southern Cook County to collect water samples and download data from soil moisture sensors.
But there is no water, not even in a well that's 2 meters deep. Parts of the Chicago area received less than a half-inch of rain in September. "The water table is well below where our sensors sit," Rivera says. "It's pretty dry right now."
And it's hot. On this Monday in late September, the high temperature in Chicago (92 degrees) broke a record for the sixth-consecutive 90-plus degree day. The unprecedented heat was not confined to Chicago. It was the fourth-warmest September on record, based on global average temperatures.
As Hernandez Gonzalez looks out over the prairie, her mind, understandably, drifts to home. She has only recently heard from her family in Arecibo and Hatillo, Puerto Rico. They're safe despite the humanitarian crisis unfolding in the aftermath of Hurricane Maria, which pummeled the island just days earlier. She can't help but connect the dots. Responding to climate change "was one of the motivations for this project and for me to get into environmental engineering," says the third-year PhD student.
Hernandez Gonzalez and Rivera visit the prairie once a month, blazing trails through the big bluestem grasses and wild quinine. Their work is a piece of a partnership that includes the Institute for Sustainability and Energy at Northwestern, the Northwestern Center for Water Research and The Nature Conservancy, which manages the prairie, to understand the prairie's role as an urban green space. (The project also includes researchers Cristina Negri and Pete Beckman from Argonne National Laboratory.)
The Northwestern research team, led by chemical and biological engineering professor William Miller and civil and environmental engineering professor Aaron Packman, placed water-level sensors and soil moisture probes at the site to develop hydrologic models and quantify some of the ecosystem services that the prairie provides, including stormwater retention and greenhouse gas sequestration. The Gensburg-Markham Prairie is part of the larger Indian Boundary Prairies, remnant prairies owned by The Nature Conservancy and Northeastern Illinois University.
Today the researchers leave the parched prairie empty-handed, but Packman says that's OK.
"We designed this study so that we could document the value of the nature preserve in terms of preventing flooding," he says. "But instead we're seeing the effects of climate change. The students see a lack of water in the wells, and they think that's bad, but for me that's still data."
Rivera, a third-year PhD student from San Antonio, is comparing the native prairie with several other sites, including the urban agriculture hub Legends Farm and the green roof at the Chicago Botanic Garden's Rice Plant Science and Conservation Center. "Previously there was almost no hard evidence on the real effects, real benefits of different kinds of urban green spaces," Packman says.
"The work at Indian Boundary Prairies is really foundational for understanding the importance of these natural systems," says John Legge, The Nature Conservancy's Chicago conservation director.
The partnership with The Nature Conservancy exemplifies what ISEN does best — bringing local, national and international partners together with Northwestern faculty and students to develop sustainability solutions that can be scaled up and applied in Chicago and beyond. The Conservancy's state director, Michelle Carr, underscores the importance that high-quality partnerships play in producing scalable solutions. "Creating resilient cities will come from an interdisciplinary approach, in which we can tie best practices to measurable ecologic and social outcomes," says Carr, who sits on the ISEN board.
ISEN, the University-wide organization that is driving much of Northwestern's energy- and climate-related efforts, supports research, connects collaborators from disparate departments, offers energy- and sustainability-related courses taught by industry experts, supports student experiences and creates partnerships with nonprofits and corporations to foster the innovation necessary to address the massive challenges presented by climate change.
"Making connections is our main business," says ISEN executive director Michael R. Wasielewski, the Clare Hamilton Hall Professor of Chemistry. He estimates that more than 100 faculty and five times as many students are involved with the institute. "One of ISEN's key strategies is to develop research teams that involve not only people on the science, engineering and technology end but also experts from policy, economics and business. We're trying to develop a holistic picture of how to develop new solutions for both sustainability and energy, to move from basic research to a societal benefit."
Jay Walsh, vice president for research, says ISEN's multidisciplinary nature is true to its origins a decade ago as a faculty-led initiative with research, education and teaching, and outreach components. "There's been tremendous acceleration in this area, and ISEN is playing a significant role," says Walsh.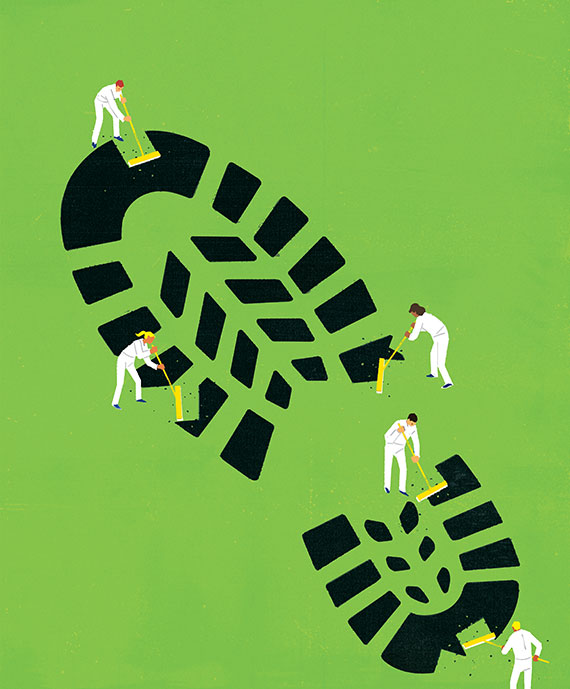 Illustration by Chris Gash
CHARGING AHEAD
Lithium-ion batteries power everything from personal electronics to electric vehicles, the latter of which are projected to shape a $15 billion market by 2025. However, that market value is a mere fraction of what it could be, says Mark Hersam, Walter P. Murphy Professor of Materials Science and Engineering.
Through a three-year research agreement with Chicago-based Exelon — the nation's leading competitive energy provider — Hersam and his lab are working to tackle two of the biggest impediments to greater market penetration of lithium-ion technologies — stability and charge time — with the goal of reducing charge time from several hours to as little as 10 minutes.
"It takes a few minutes to refuel an internal combustion engine, compared to the few hours it takes to recharge an electric vehicle. Therefore, if we increase battery charging rates by a factor of 10, the charging time becomes comparable to refueling your car," Hersam says.
Hersam's team showed that it could develop a lithium-ion battery with a longer lifespan, made possible by a unique process that encapsulates the battery's cathode material within graphene, a one-atom-thick sheet of carbon. Graphene is derived from graphite, the earth-abundant material used in pencil lead. It's known to have high electrical conductivity while remaining chemically inactive and therefore resistant to the chemical interactions that lead to degradation within a battery. The result? A longer battery life and a more stable battery.
Hersam has demonstrated this technique with lithium manganese oxide, a material that he notes is preferred for use in fundamental lab studies but is not among the most popular materials used in lithium-ion batteries on the market today. For the Exelon project, Hersam will use two materials that are currently used in electric vehicle batteries: lithium nickel-manganese-cobalt oxide (NMC), used in the Chevy Volt, and lithium nickel-cobalt-aluminum oxide (NCA), used in Tesla-brand vehicles.
Over the next three years, the team will work to integrate NMC and NCA with graphene. If successful, Hersam's work could drive down battery prices and accelerate the expansion of the electric vehicle market.
Hersam's research is part of the Northwestern-Exelon Master Research Agreement, which launched in May 2016 and established an initial five-year period of research around a project portfolio that includes power grid management and resilience, energy storage and renewable technologies. The partnership between Exelon and ISEN was formed to streamline and accelerate the process for evaluating and scaling scientific discoveries made in Northwestern labs for commercial-scale implementation.
"Exelon has almost 12 million customers across its entire business, and we have a line of sight about what our customers want," says Chris Gould, Exelon's senior vice president of corporate strategy and chief innovation and sustainability officer. "Clean energy, conservation and energy efficiency are at the top of the customers' list.
"When a company like Exelon can combine with an institution like Northwestern, which has expertise in research and development and physical labs, you have a combination that's really the dream team: a customer demand married with technology and research and development expertise to meet that demand."
The partnership's other main project involves Wasielewski's research to develop an enhanced third-generation photovoltaic solar cell.
The maximum possible efficiency of conventional solar cells hovers around 33 percent, even though few solar cells in everyday use exceed 20 percent. Wasielewski and his team aim to push that limit to 45 percent by applying a combination of novel processes to solar cell fabrication.
Wasielewski's team is developing new materials that can carry out a process called singlet fission, which converts the energy in blue photons of sunlight into two pairs of charges that are then collected by electrodes in the cell. The fact that singlet fission in these materials yields two charge pairs for every blue photon absorbed, instead of the usual single pair of charges, results in the boost in efficiency. These new materials created at Northwestern — derived from molecules found in the pigment mixtures that are used for car paint — make better use of the blue end of the visible light spectrum. 
"Singlet fission is a phenomenon that's been known for 50 years but was not recognized until 10 years ago as being relevant to photovoltaics," says Wasielewski. "By developing new materials that will carry out singlet fission, we hope to deliver a new solar cell technology that can be commercialized."
The flexibility of these thin cells makes them useful for applications ranging from solar cells incorporated into building materials to consumer products such as solar clothing that can power personal electronics.
GOING GREEN IN GERMANY
To get a glimpse of sustainability done right, 15 McCormick School of Engineering rising sophomores spent the final days of last summer touring Germany, a world leader in renewable energy development.
The Global Engineering Trek in Sustainability sent students on daily technology excursions outside Frankfurt and Heidelberg to get a firsthand look at sustainable solutions to energy demands and manufacturing. The not-for-credit global immersion pilot program is a partnership between McCormick and ISEN, funded in part by the Walter P. Murphy Society, a Northwestern engineering alumni group.
The students visited ABO Wind, including a behind-the-scenes, ground-level tour of a 650-foot turbine on a wind farm in Weilrod. They also toured two of the country's most sustainable businesses — Mannheim-based FUCHS, a lubricant and petrochemical company and winner of the 2016 German Sustainability Award, and the paint and coatings supplier DAW in Ober-Ramstadt, a 2017 national sustainability award nominee. 
"We had hoped this would give rising sophomores a sense of what sustainability means as part of a professional engineering career, and how they could incorporate that into their own diverse interests as they plan the next three years of their academic career," says Matthew Grayson, the trip's organizer and director of Northwestern Engineering Global Initiatives. "And we wanted them to be inspired to find their passion as engineers through global connections."
Grayson, an associate professor of electrical engineering and computer science who lived in Germany for several years as a researcher at the Technical University of Munich, says the program developed due to demand from first- and second-year engineering students for international experiences. With additional support, he hopes to expand the program next year, with new global treks to Israel and China. The work in Israel will build on the Northwestern Center for Water Research's collaboration with Tel Aviv University and Ben-Gurion University. The partnership, which is led by Aaron Packman of the water research center and Elie Rekhess of Northwestern's Crown Family Center for Jewish and Israel Studies, will explore water science and water engineering, social science, culture, history and public health. Plans for a future China engineering trek will explore computer science and industrial engineering.
"We hope that this unique Northwestern portfolio of new programs will help to attract like-minded students to realize that Northwestern is the place to go if you want to become a globally connected engineer," Grayson says.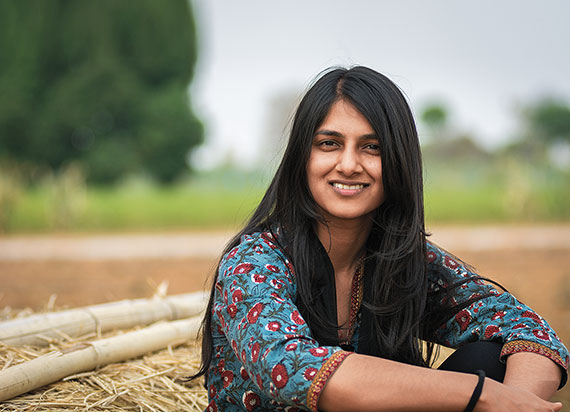 Saumya co-founded Kheyti, a startup that created a greenhouse for farmers in India.
GREENHOUSE IN A BOX
It's midweek in late September, and, after an hourlong drive from Hyderabad, Saumya is in the field by 7 a.m., helping her farmer clients in rural southern India harvest cucumber and capsicum, or peppers.
It might seem like an odd place to find a recent Kellogg School of Management grad, but Saumya (who uses just her first name) knows climate change is creating a market for sustainable solutions for the nearly 100 million small farmers in India who depend on agriculture for their livelihood.
"Every season, farmers have a new problem," says Saumya '17 MBA, a native of New Delhi. "It could either be excess heat or unseasonable rain or pest attacks — something that wipes out their profit every single season."
Saumya and three co-founders launched Kheyti (Hindi for "farming") in December 2015. Since earning her degree in June, Saumya built product partnerships in Israel for three months and recently moved back home to India. She is working with farmers who use Kheyti's Greenhouse in a Box, a low-cost, 2,300-square-foot greenhouse that includes a drip irrigation system, insect netting to prevent pest entry and shading to reduce excessive heat. Saumya worked on and refined the greenhouse prototype in Israel, where agronomists have expertise in irrigation and protected farming in conditions similar to India. On average, Kheyti's system helps farmers use 90 percent less water and increase yields by six or seven times.
Working with farmer producer organizations, Kheyti started its pilot program last December in Shamirpet, and 50 farmers enrolled. The program's bundle of services includes linkages with seed and fertilizer companies, hands-on training and connections with food buyers and markets. 
ISEN helped Saumya get Kheyti growing with the inaugural $25,000 award from the Resnick Family Social Impact Program. "When nobody trusted our idea or believed in us, ISEN was there," she says.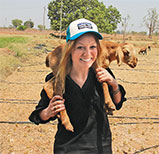 "This greenhouse project is working for people," says Janice Cantieri '17 MS, who met Saumya on an embedded reporting trip to India. "It's making a difference in the lives of farmers and their families."
Cantieri received a Comer Scholarship, administered by the Medill School of Journalism, Media, Integrated Marketing Communications, and traveled to India twice as part of the health, environment and science reporting specialization. Her reporting on Kheyti farmers is slated to be part of an upcoming National Geographic story. (See Cantieri's photo essay on Kheyti in the fall issue of ISEN's Empower magazine.)
Cantieri was one of several journalism students reporting on global climate change from the front lines in an effort to help raise awareness, promote dialogue and influence policy.
"Embedded reporting immerses the students in field research and other science research settings to reinforce their fluency in bridging the gap between critical research, inspiring technology and general audiences," says Abigail Foerstner '71, '72 MS, who co-directs health, environment and science reporting at Medill's Chicago newsroom.
As a Comer Fellow, Cantieri reported on climate scientists' efforts to measure sea level rise and coastal erosion in Puerto Rico and learned about the effects of ocean acidification on marine life at a field course in Bodega Bay, Calif. Before coming to Northwestern, Cantieri lived off the grid for nine months on the islands of Kiribati and Fiji, where she documented the islanders' resiliency and adaptations to climate change in the Pacific — think sea walls made of coconut shells.
"I have focused my reporting on how the choices that we make here in one of the biggest carbon-emitting countries in the world affect other areas around the world that don't contribute as much, and how there are tangible impacts of climate change that are affecting humans, not just melting glaciers or endangering animal species," says Cantieri, winner of a 2015–16 Fulbright-National Geographic Digital Storytelling Fellowship. "If I can explain how those changes are affecting the daily lives of people, maybe it could spark a discussion about how we need to move to more sustainable sources of energy."
Cantieri is now a resident intern at the Wellstone Center in the Redwoods, a writers' retreat in Northern California, where she's working on a book about her time in Fiji and Kiribati.
SAND STORM
Illinois' LaSalle County once billed itself the "Silica Sand Capital of the World," and for the past several years it has done a great deal to live up to that reputation. St. Peter sandstone, the fine silica sand mined from the region, became a key component in fracking. Drillers use the sand to hold open fissures created by the high-pressure injections that break open rock and shale formations.
Between 2005 and 2014, according to the Chicago Tribune, mining operations gobbled up more than 3,000 acres in LaSalle, one of the top five farming counties in the state. The sand mining process irreparably destroys the fertile farmland.
Mining slowed when the price of oil dropped below $50 per barrel, making fracking less profitable, says Nancy Loeb, head of the Northwestern Pritzker School of Law's Environmental Advocacy Center. At the same time, drillers in the Southwest found that sand from the Permian Basin in Texas does the job without the expense of shipping sand by rail from the Upper Midwest. 
"So you've destroyed the farmland and the environment without the economic activity even happening," says Loeb. "We don't really know what's going to happen in the longer term, but it certainly provides evidence that this rapid and widespread destruction of very valuable farmland may be for no real economic purpose."
Loeb is counsel to a group of farmers and residents of LaSalle County who are challenging the permitting of a new mining operation on the grounds of prospective nuisance, "alleging that people's lives will be dramatically affected both in terms of health and their ability to live in and enjoy their homes peaceably."
After the Illinois Supreme Court denied the mining operation's petition for leave to appeal in September, the case is headed back to the circuit court, where the defendants will be required to answer the complaint.
Beyond the destruction of farmland and the health effects of wind-blown silica, a known carcinogen, the sand mines often use more than 1 million gallons of water a day. The law school's Environmental Advocacy Center worked with the U.S. Geological Survey to examine the effects of mining on the quantity and quality of groundwater, with financial support from ISEN. The USGS report shows that there is potential for depletion of the groundwater resources and possible harmful quality effects. Loeb and her team are now working with members of the LaSalle County board to incorporate the USGS report's findings into the zoning and permitting processes.
The work in LaSalle County is just one area of the center's environmental advocacy. The center is also working with residents of the 1970s-built West Calumet Housing Complex and two adjoining housing areas in East Chicago, Ind., on the site of a former USS Lead smelter operation. Last May the U.S. Environmental Protection Agency concluded testing on the property, which was declared a Superfund site in 2009, and found high levels of lead and arsenic, even in areas of exposed dirt where children played. The Environmental Advocacy Center joined a coalition to advocate to the U.S. EPA for cleanup of residential properties and appropriate protections for people during the cleanup and improvements. The center also worked with the Natural Resources Defense Council to help replace lead service lines after the city's water supply tested positive for lead.
"We're trying to give representation to people who otherwise couldn't get help," Loeb says. "And it gives our students a chance to directly engage with people in need. We're trying to fill gaps and help people on the ground in communities that have far more than their fair exposure to these dangers."
SUSTAINABLE RECONSTRUCTION
When Hurricane Harvey inundated parts of Houston with more than 50 inches of rain, it left the city to deal with an estimated 84 million tons of debris.
Harvey was one of three devastating hurricanes in a late summer and early fall full of global disasters, including the Mexico City earthquake, flooding rains in India and devastating wildfires in California.
Vidushi Dwivedi, a second-year master's student in chemical and biological engineering, has been thinking a lot about how to rebuild sustainably after such disasters. Dwivedi, who interned with the World Wildlife Fund as part of a partnership with ISEN, is updating the Building Material Selection and Use: An Environmental Guide, a WWF tool to aid policymakers and project engineers in reconstruction and disaster recovery. Part of the World Wildlife Fund's mission is to build more sustainable communities.
"Having the ability to engage and learn from civil engineers makes our work more applicable on the ground and gives it more credibility," says Anita van Breda, the WWF's senior director of environment and disaster management.
The guide, which focuses on sustainable material selection, sourcing, use, disposal and recyclability of construction material, was originally developed by WWF after the 2015 Nepal earthquake, which destroyed nearly 500,000 homes. Dwivedi worked with WWF to expand the guide, with a much stronger focus on sustainability. It lists more than 50 building materials — from bamboo to thatch and clay tiles — and specifies each material's properties, including mechanical or electrical use, toxicity, durability, embodied energy, carbon footprint and best practices for reuse and disposal.
"We are also working on a sustainable infrastructure decision-making tool, which uses an optimization algorithm," developed by chemical and biological engineering doctoral student Daniel Garcia, says Dwivedi. "So, we input all the materials that we have available from different regions for different parts of the house — from the roof to the walls to the foundation — and the algorithm ultimately generates a pareto-optimal curve, providing multiple sets of materials for building the structure while minimizing the cost as well as the environmental impact."
The goal of this ongoing project, which is supervised by William Miller and Stephen Carr, professor of materials science and engineering and chemical and biological engineering, is to develop an online international version of the optimization tool that provides disaster-specific reconstruction guidance.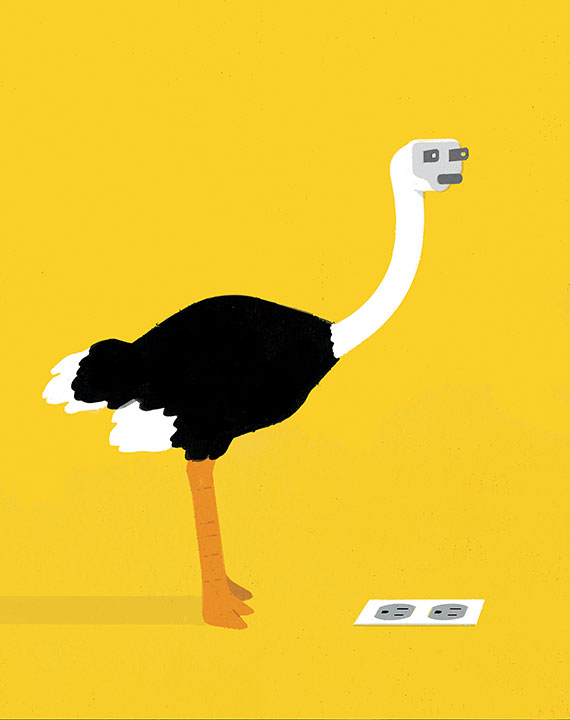 Illustration by Chris Gash
THE PATH TO 2 DEGREES
The Paris climate accord set an ambitious goal: limit the rise in global average temperature to well below 2 degrees Celsius, compared with preindustrial levels.
Northwestern engineering professor Eric Masanet spent the last two years mapping out practical pathways to meet that target during his sabbatical at the International Energy Agency in Paris, where he headed the Energy Demand Technology Unit. The IEA, an autonomous organization, provides policy advice to guide the development of reliable, affordable and clean energy for its 29 member countries and beyond.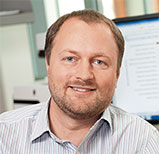 Masanet, who heads Northwestern's Energy and Resource Systems Analysis Laboratory, led an IEA modeling team that produced energy system outlooks and identified technologies for reducing greenhouse gas emissions to meet climate goals. "Our goal was to identify the least costly way of reaching very low emissions targets using different technologies in different world regions.
"Many technologies that are important for climate mitigation are behind in terms of their deployment trends and policy support," he adds. "There are only a few that are actually on track." 
The path ahead is challenging, admits Masanet, an associate professor of mechanical engineering and of chemical and biological engineering. "We pushed technology as hard and as fast as technically feasible, meaning the most aggressive adoption of clean technologies," he says. "First, the long-term extent of technological change is truly monumental. For example, most on-road transport would have to be electrified. Aircraft would have to run almost entirely on biofuels, because there's no other presently available technology to decarbonize aircraft. Most heavy industrial plants would have to be equipped with carbon capture and sequestration. Most buildings would have to be ultra efficient. Every aspect of the energy system looks much different than it does today.
"We do have the technological capabilities to make a really big dent in CO2 emissions," he adds, "but at the same time, the scale of the challenge is massive. Regardless of the temperature rise target, whether it's 2 degrees or 1.75 degrees, we have to act soon."
The situation may become more challenging if President Donald Trump proceeds with plans to remove the United States — the world's second-largest greenhouse gas emitter — from the Paris climate accord.
Masanet, who teaches ISEN 210, Introduction to Sustainability: Challenges and Solutions, remains optimistic that the Paris objectives are within reach. He says it's crucial to ramp up energy efficiency and carbon capture and sequestration technologies and maximize the use of sustainable biomass. He also says that emerging technologies could push the energy system to greater efficiencies.
"It can be done," Masanet says, "if there's policy will, and if there's public will to do something about it."
Kevin Self '91 MBA says that sentiment is growing. Senior vice president of strategy, business development and government relations for France-based Schneider Electric, Self says 71 of the top Fortune 100 companies now have some type of clean energy and sustainability efforts. "So, the private sector isn't sitting back, waiting," says Self, a member of ISEN's executive council. "We know that work needs to be done. Regardless of what Washington, D.C., is doing, the rest of the world is moving forward."
Northwestern's sustainability efforts received a substantial boost when University trustee and alumnus Jeff Ubben '87 MBA and his wife, Laurie, made a $5.5 million gift to ISEN to establish the Ubben Program for Climate and Carbon Science. The program will bring together faculty experts and partners in science, engineering, business, policy, law and communications to advance understanding of natural and human-caused climate dynamics and to develop and evaluate new approaches for climate mitigation, including energy solutions that avoid — and even capture and recycle — greenhouse gases. (Read more in "Supporting Sustainability.")
"Energy is a global problem," says Jay Walsh, vice president for research. "Independent of what your politics are, we have data, and the data are absolutely clear. We've got to figure out how to stop taking carbon that was buried well beneath the earth's surface and putting it up in the air. That is an issue.
"Humans have been excellent at solving problems for millennia. I have no doubt we're going to solve this one also. As a research university with diverse strengths, we are well-poised to make a significant impact that creates sustainable and effective responses to these challenges."