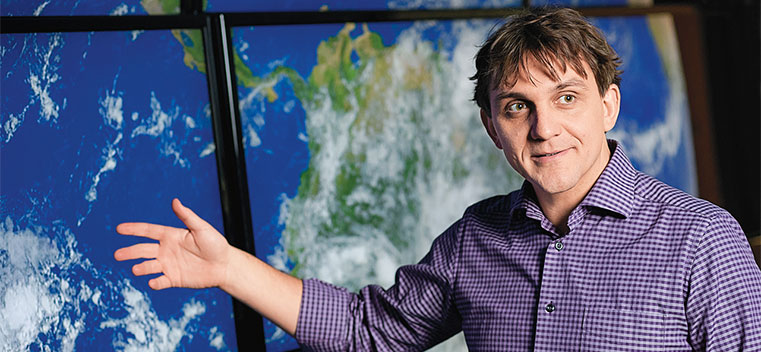 Assistant Professor Daniel Horton is a climate scientist and principal investigator of the Climate Change Research Group at Northwestern.
Studying Extreme Weather
Story Tools
Share this story
Daniel Horton examines the influence of climate change on extreme weather events.
Daniel Horton was a weather officer at the U.S. Air Force base in Aviano, Italy, when Hurricane Katrina hit the southeast United States in 2005. At the time, the Tulane University graduate was responsible for aviation forecasting and protecting base personnel and resources from hazardous weather conditions. Watching from afar as New Orleans struggled inspired him to alter his path and learn more about extreme weather events and Earth's climate system.
"I saw this place I had adopted as my home get destroyed," he recalls. "I decided at that point to return to school and dive deeper into the science."
Horton left the Air Force to pursue a PhD in geological sciences at the University of Michigan, where he combined his experience in meteorology with his passion for geology. He focused on paleoclimatology, using advanced computer models to study ancient climates, then applied those skills at Stanford University as a postdoctoral fellow studying current and future climate change and their impact.
Horton joined Northwestern's Department of Earth and Planetary Sciences as an assistant professor in 2015. Today, as a climate scientist and principal investigator of the Climate Change Research Group, he considers climate change to be one of the most pressing issues of our time. 
Climate change is happening right now, Horton says — "We recognize it in the form of extreme events, such as more frequent heat waves, more intense storms and heavier downpours." Horton's research involves event attribution analysis, which uses computer models and statistical analyses of climate observations to study the influence of climate change on extreme weather events. He also uses climate models to better understand the potential influence of climate change on human systems — public health, agriculture and infrastructure.
"In order to prepare for climate impacts that are coming down the pike, we need the best available science," Horton says.
Horton's work is supported by the Institute for Sustainability and Energy at Northwestern and its Ubben Program for Climate and Carbon Science. Established by a gift from Northwestern Trustee Jeff Ubben '87 MBA and his wife, Laurie Ubben, the Ubben Program has enabled Horton and others to hire postdoctoral students to advance climate research.
"The gift is incredibly generous and timely," Horton says. "Not only are we advancing good science, but we're trying to find solutions to some of the biggest problems we face in society." 
Horton's research often addresses the intersection of climate change and humans. This fall, he was joined by Jordan Schnell, one of the Ubben program's new postdoctoral fellows and an expert in climate change, air quality and human health. Together, they will study how climate change and energy infrastructure choices influence air quality and public health.
The Ubben Program will have an important impact on climate-related research, Horton asserts. "Philanthropy such as the Ubben gift has become essential to accomplishing our science," he says. "It's an important gift, and I'm looking forward to producing substantive and impactful research."